Daylight Saving Time returns 03/09 - turn your clocks ahead one-hour
CLICK to listen LIVE to 1450 WLAF CLICK to watch LIVE WLAF-TV 12
Smith Hardware opens everyday at 7:30 AM (Mon - Sat)

For the correct time & temperature anytime, call

TERRY'S TIME & TEMP Line 423.566.TIME…566.8463 (a service of Terry's Pharmacy)

Photo from home

Fire on the mountain.

This is the look at the fire on Bibee mountain at Bruce Gap as seen from Caryville Elementary School.

(03/08/2014)

Cougar Baseball debuts on the radio Monday

Cougar Baseball opens its season Monday at Powell. Join David Graham and Joe Monroe for all the fun on the radio, 1450 WLAF. That's Monday at 5:30. Logan Hickman of Peoples Bank of the South will also be a part of the broadcast team on select games. (03/06/2014 - 6:55 AM)
Carmike Movies 2
behind Woodson Shell
2140 Jacksboro Highway - La Follette - 423.562.0979
Sunday 7:30 p.m.
Monday, Tuesday, Wednesday 4:30 p.m. & 7:00 p.m.
Son of God (PG-13)
Sunday 7:10 p.m.
Monday, Tuesday, Wednesday 4:00 p.m. & 7:10 p.m.
14 firefighters, four dozers, and two fires
Fire broke out around 3:00 p.m. Friday afternoon high above Bruce Gap on the Cumberland Mountain.
Locals reference this portion of the ridge as Bibee Mountain
Just down the mountain from the Justin P. Wilson Cumberland Trail is where firefighters with the state forestry division fought two different fires until about midnight Friday.
They were back at it again this morning at daybreak battling the two fires that officials say were intentionally set. Crews are using four bulldozers in rocky and steep terrain to lay down dozer lines to keep the fire from spreading to homes below.
Personnel first approached the area from Interstate 75, and realized that access would be better from Bibee Lane just above Cove Lake Park off Loop Road. (03/08/2014 - NOON)
Record-setting Warriors honored
Thursday night was a special night in the lives of the Warrior and Lady Warrior basketball teams of Christian Academy. CA coaches Vic King (boys) and Starla Berry (girls) led the celebration at the Warriors Gym.
Coach Berry
All in attendance enjoyed barbecue catered by KP's BBQ, a David Graham produced highlight video, and were entertained by stories of the season from Coach Vic King. King's CA elementary team won a school-record 16 games against only one loss.
Coach King
The team won one game the season before. Highlight DVDs are just $10.00 and may be purchased from David Graham at 423.912.2005 or visit www.cougarsrock.net (PIX COURTESY DAVID GRAHAM - 03/07/2014 - NOON)
Zumba with Ali is Monday & Thursday at 6:00 p.m., Saturdays at 9:00 a.m.
Time to switch to that "ole new time"
Mammow Leinart always referred to Daylight Saving Time (DST) as that "ole new time." Well, Mammow. This is the weekend we switch to that "ole new time." Before you turn-in Saturday night, remember to set your clocks ahead one-hour to DST. That will insure you will be on time Sunday morning and not an hour late. Even though we lose an hour of sleep, we gain an hour of daylight in the evenings. Sunrise on Sunday will be at 7:59 a.m. while the sun sets Sunday at 7:39 p.m. (03/07/2014 - 12:15 PM)
We're paying more at the pump this morning
For the second morning in a row, gasoline prices are up here in Campbell County. We are now paying $3.15 for a gallon of regular unleaded gas; the highest price locally since it was $3.16 on October 23, 2013. The lowest price for gasoline in Campbell County for the new year to date was $2.99 back on February 3. Prices have ranged from that low of $2.99 to today's high price for the year, so far, of $3.15. (03/07/2014 - 6:00 AM)
Unwelcome CCHS visitor winds up in jail
On Tuesday, Dylan Emory had his driver's license revoked. Then Wednesday, he crossed the line with security guard Big Tony Brown at the Campbell County High School. And now this morning, Emory's in the county jail. The police report details that the 18-year old, who is not a CCHS student, drove his small SUV onto the high school campus Wednesday morning telling Brown at the Brown Guard Shack that he was going to eat lunch with his girlfriend. Brown instructed him to leave the campus.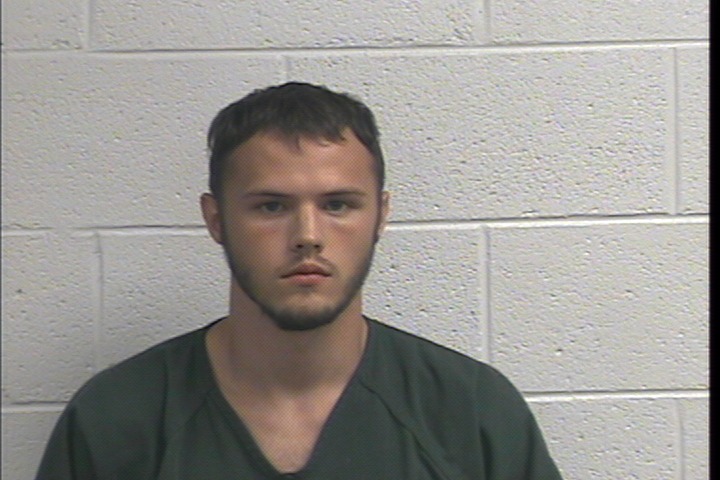 Dylan James Emory (PHOTO COURTESY OF THE SHERIFF'S DEPARTMENT)
Instead, Emory proceeded to the La Follette parking area of CCHS and then circled back toward the four-lane where Brown stopped him. A school resource officer (SRO) then confronted Emory who told the officer that he came to talk with someone in the guidance department. Dylan explained that Judge Joe Ayers revoked his license for a year over a DUI, driving under influence charge, and told him not to drive. The officer then searched Dylan's vehicle and found what appeared to be marijuana along five bottles of beer. Since he was driving on a revoked driver's license, Dylan's Chevy Blazer was seized, and Dylan was taken to jail. (03/07/2014 - 6:00 AM)
David Graham's Sports Report 03/07/14
Pine Mountain Longbeards win award; upcoming fundraising banquet
By Charlotte Underwood
It was a great year for the Pine Mountain Longbeards chapter of the National Wild Turkey Federation (NWTF), who recently received an award for the best special event hunt for 2013. Held at the end of April each year, the "Wheelin Sportsman Hunt" is for handi-capped hunters and Wounded Warriors, or wounded war veterans. The local non-profit chapter has been holding the hunt since 2005, according to Pine Mountain Long Beards President Billy Ball.
The award is proudly displayed
The award is given by the NWTF. Out of all the "Wheelin Sportsman" hunts in the nation, last year, Campbell County's was the best. The award was given to the Pine Mountain Long Beards at the annual National Banquet held in Nashville in mid February.
According to Ball, the NWTF look at the quality of the overall event as well as the quality of the hunt itself when deciding on who to give the award to. Some of the things which make the Pine Mountain Long Beards hunt better than others is what they do for the hunters. The event starts off with a fish fry and a welcome party on Friday evening. For many of the participants, especially the war veterans, the hunt is as much about healing and friendship in the outdoors as it is for bagging a turkey. A lot of the "Wounded Warrior" participants are part of HOOAH, a program designed to encourage wounded veterans to participate in outdoor activities to help in the healing process. Many of the war veterans come from Fort Campbell in Kentucky.
During the Wounded Warrior hunt, each hunter is matched with a guide who helps the hunter if they had special needs while out in the blinds. Guides assist the hunter and do not hunt themselves.
Activities for the hunters continue with lunch-time entertainment. Last year, the Elk Valley Honor Guard was on hand, along with retired Gen. Carl W. Stiner and National Wild Turkey Federation President Sam Mars. The Royal Blue chapter of the Rocky Mountain Elk Foundation was there as well.
The annual "Wheelin Sportsman" Hunt usually has about 10 to 12 veterans and 12 to 14 local handi-capped hunters. Last year's hunt included 25 individuals. Out of those 25, 10 got their turkey, which is another factor which looked at by the NWTF when deciding who the award recipient will be.
"We try to make it a good experience for them, something they will always remember," Ball said.
The Pine Mountain Longbeards Hunting Heritage annual fundraising banquet is slated to begin at 5 p.m. on March 8 at the Ball Farm Event Center located 2107 Carl Stiner Highway, LaFollette. Meal tickets can be purchased before the event. Tickets to the event are by pre-sell only for reservation purposes. For more information, contact Ball at 423-871-2200. (03/07/2014 - 6:00 AM)
La Follette's "song bird" wows state legislature
Local ball games. The state basketball tournament. And now the state legislature is on the list of venues where resident song bird Hayllynn Willis has performed the national anthem.
House Speaker Beth Harwell (L) with Hayllynn inside the house chamber
The La Follette Elementary student opened the Thursday morning session at the state capitol with her moving rendition of the national anthem. (03/07/2014 - 6:00 AM - PHOTO SUBMITTED)
Monogramming Mayhem moves to Mall
Photos & story by Charlotte Underwood
Monogramming Mayhem has moved to the mall. Owned and operated by Jimmy and Millie Henegar, the business began in Sept. of 2013, and was previously located on Old Jacksboro Highway. What began as a "hobby and therapy" soon became much more for the Henegars as the business quickly grew. This prompted their move to a bigger location in Woodson's Mall. The business opened in its new location on Feb. 1.
The company specializes in embroidery, custom monograms, heat press, appliqué, rhinestones, tackle-twill, retail apparel, home-crafted bags, hair-bows, quilts and much more. Monogramming Mayhem has full-service screen printing and also offers a political package, which includes signs, stickers and more. Another popular item they offer is specialty product advertising. They can put company names and logos on key chains, hats, tote bags, pens, drink cups and more. The Henegars can also basically take any design, whether it is something someone has drawn themselves or one of the hundreds of thousands of graphics offered by the business, and place it on any fabric. The company also has a professional digitizer who can take a regular picture and digitize it so the picture can then be put into the computer program and placed onto a garment.
Co-owner and operator Jimmy Henegar is seated in front of one of the company's commercial embroidery machines. The business is set up to accept large orders from business accounts.
"Anything you can imagine, we can put it on a garment," Jimmy said.
Not to mention embroider leather, boots, jackets, belts, bags, and just about anything that's a garment or an accessory if it is made of fabric.
"We can do custom handkerchiefs like for weddings or gifts, custom-made birthday outfits and much more," The Henegars said, adding that their equipment was actually set up for commercial use and could handle very large orders such as for businesses or companies.
"We have done a lot of work for companies needing garments and offer business account pricing for large orders of garments," Millie said. Customers can certainly order garments and not have them embroidered as well since the business is a full retail side as well.
"As far as apparel made, there's no garment that we can't order, from Carhartt.
Monogramming Mayhem has moved to the mall. The business offers much more than embroidery and monogram work, such as hand-crafted items made by local artisans.
Jackets to the smallest t-shirt," Jimmy said, adding that people were always welcome to bring in their own garments. Most retail orders are shipped within one to two days. Offering that many products and services sounds like a lot of mayhem, but the name of the business actually came from what the Henegars were going through at that time of their life.
"The long and short of it is we lost our son Trinity in September 2012," Jimmy said. Before his son's death, the company he had been employed at for 12 years had also closed. Millie's job ended shortly after and then Jimmy found an embroidery machine.
Other hand-crafted items such as these quilts are also offered by the business.
"I had always been impressed with embroidery and mystified at how it worked," Jimmy Henegar said.
"We bought it, and I basically said this is our therapy," Jimmy said.
This picture shows a close-up of the embroidery process.
Neither knew how to use the machine.
"All we knew how to do was turn it on," Millie said.
The large 400 pound 12 needle SWF embroidery machine came with no manuals because the couple had to drive to the back-woods of Sevierville to purchase the machine from an old man who had wound up with it from a storage shed auction.
An accomplished seamstress herself, co-owner and operator Millie Henegar works on a garment at Monogramming Mayhem.
"I thought he was nuts," Millie said with a laugh.
"Like I said, I had always been mystified with it and these new machines are expensive. I found that one and I told the guy, we are coming tonight to pick it up; we went out into the backwoods and got it," Jimmy said. After getting the machine, the two began doing research and learning how to use it.
"I knew it would be therapeutic because it would be time consuming, but I also knew it would provide a service to people," Jimmy said, adding that learning the embroidery business from the bottom up ended up being the best way.
"To me it was a better way to learn; when you are forced to learn and you read about it and learn it from the ground up, it sticks with you."
Both Millie and Jimmy are from Campbell County. Millie Henegar's mother was a "world-class seamstress" who made all of her children's clothing when they were growing up, including their blue jeans, so Millie has always had a great respect for the industry as well.
Retired from the Navy, Jimmy enlisted when he was 17 and traveled all around the world for 20 years before moving back to the county in 1999.
"I found other places in my travels where I would have moved, but your home is like a loved one – you can't replace them," Jimmy said.
Monogramming Mayhem can do much more than just embroidery such as the heat pressed garments pictured here. The Owls shirt is a combination of heat press and embroidery.
It was while on some of his travels that he was exposed to hand embroidery. He recalled being stationed in Okinawa, Japan and going to look at the tailors at work.
"Of course it was a lot different and all done by hand," Jimmy said.
It is the uniqueness of embroidery that Jimmy said he finds so very fascinating about the business.
"We don't mass produce. Even though they may look it to the naked eye, I guarantee, not two products will be exactly the same; that is just the unique thing about embroidery."
"We really enjoy the business a lot and are keeping very busy," Millie said.
"It's fun," Jimmy added, "but the outstanding part of this job is when you take that project that someone wants and finish that garment - there is a lot of satisfaction in that."
Monogramming Mayhem is owned and operated by Millie and Jimmy Henegar, pictured standing here with the machine that started it all. "The Boss", the Henegar's granddaughter is also pictured.

Monogramming Mayhem is located in the mall at 2221 Jacksboro Pike, Suite C9, next to the Back Door Café and can be reached at 423-201-9294 or visit their website at Monogrammingmayhem.com. The business also supports local artists and carries hand-crafted goods such as quilts, hair bows and ties, and even a lady who makes tutus to match little girl's outfits. (03/06/2014 - 6:00 AM)

Campbell County High School Football Coaching Staff receives the Boy Scouts of America's Campbell County Good Scout Award

La Follette, Tennessee, February 28, 2014

FOR IMMEDIATE RELEASE

Logan Hickman, chairman of the seventh annual 2014 Boy Scouts of America's Campbell County Good Scout Award Dinner, is pleased to announce the 2014 honoree is Campbell County High School Football Team Coaching Staff. This staff and their players created the conditions necessary to achieve success never before experienced at Campbell County High School. This yearly ceremony and dinner will occur at the Ball Farm Event Center, 2107 GEN Carl W. Stiner Highway, La Follette on Thursday, April 10, 2013 at 6:00 PM. The money raised at the event will support Campbell County scouting in 2014.

The coaching staff is lead by Justin Price. His brother, Matt, is the defensive coordinator. This group of coaches and their players achieved many firsts. The team achieved its first ten win season. In fact before 2013, the team had only one winning season in 38 years. The 2004 team went 7-4. This team finished 10-2 and beat Oak Ridge for the first time ever. They won their first ever playoff game and was eliminated by state runner-up Knoxville West High School. These young men snapped every record imaginable. Their district awards included coach of the year, offensive player of the year, and defensive player of the year.

Mr. Roy Kramer will serve as the guest speaker. Mr. Kramer served as the commissioner of the South Eastern Conference, the Vanderbilt Athletic Director, the Central Michigan head football coach, and is credited with creating the Bowl Championship Series (BCS). He is also a distinguished eagle scout. Logan Hickman said, "It is a tremendous honor to have an athletic administrator of Mr. Kramer's stature in Campbell County. It will be a great night for Campbell County High School Football and Boy Scouting."

Peoples Bank of the South is proud to underwrite the dinner's expense for the seventh year. The bank is also excited to announce its partnership with the LaFollette Press, WLAF, and WTNQ-FM. These three partners will only make the event stronger. This yearly dinner has evolved into Campbell County's premier recognition banquet.

The previous award recipients are Mr. Edward Balloff, the late Mrs. Juanita Baird, Colonel Tommy C. Stiner, the five Baird brothers, General Carl W. Stiner, and the Campbell County Honor Guard.

Contact: Logan Hickman, Dinner Chairman, Peoples Bank of the South; 423-562-4921; loganh@pbsouth.com

(03/06/2014 - 6:00 AM)

Credit card usage discussed by city council

Pictures & story by Charlotte Underwood

City credit card usage was once again at the top of the agenda at the LaFollette City Council meeting on Tuesday evening. The issue came up the first time several months ago, when Mayor Mike Stanfield broached the subject and provided a copy of credit card invoices for some charges which had been charged by councilmember Hansford Hatmaker and then interim administrator Cade Sexton. The charges amounted to less than $500 for Sexton and Hatmaker. During a previous workshop, Councilmember Bob Fannon said he planned on making a motion to provided guidelines for credit card and per diem money usage. During the council meeting, Fannon made three different motions regarding the use of city credit cards.
The LaFollette City Council held its regularly scheduled meeting on Tuesday evening at 6 p.m.
The first motion approved was to provide guidelines for credit card and per diem money used.
"Before any per diem money is issued or spent, it must be approved by council," Fannon said. The motion carried, with Hatmaker voting the only negative.
Fannon then made a motion to approve the trip to Nashville in March for city council members who decide to go. Hatmaker asked city attorney Reid Troutman if that was legal, he replied yes and the motion carried.
Fannon's third motion started a few fireworks when he asked that Sexton and Hatmaker repay funds to the city.
"We looked at all the trips and expenses over the last two years. There was some charges that were somewhat reckless - the Memphis and the Gatlinburg trip. To my thinking, there was no reason for a trip to either of those cities," Fannon said, referring to the trips that Sexton and Hatmaker took last year, one of which resulted in a TBI investigation.
Fannon's motion to bill Sexton and Hatmaker $439.89 each set Hatmaker off, as did his suggestion of garnishing Hatmaker's wages for the next three months until the money was repaid.
Hatmaker asked the mayor if he could comment on the issue.
"I have never been responsible for a credit card. Not only is that the case, but mayor, every check that is wrote is approved by you. You have to sign it before it can be paid. You signed this, Cade turned it in. You guys can sit here and worry about the nickels and the dollars that are flying by you," Hatmaker said, adding that the mayor had sent police chief Jimmy Jeffries to Memphis to conduct an investigation and that had cost the city money too.
"It won't always be this way Joe. People will come and go. You are trying to hold me responsible for something I am not responsible for. Jimmy spent over a thousand dollars, trying to come up with something on me. Here you are the mayor and Jimmy, the chief of police and you act like I am still under investigation," Hatmaker said.
Stanfield told Hatmaker he did not okay the trip for him or Cade Sexton. He also asked Jeffries if he was going to provide a copy of his investigation findings to the members of the council.
"Chief did you find out that their trip had anything to do with the city of LaFollette?" Stanfield asked.
"No, to my knowledge, it did not have anything to do with the city and to answer your other question; I have to check with the D.A. if I can provide council members with a copy of findings from that investigation," Jeffries said.
Fannon interjected that all he was trying to do was put an end to all this.
"I think this is the easiest way to do it to protect the money that goes out and to protect us on credit cards too," Fannon said.
Hatmaker told Fannon "It will be a cold day in you know where before you get anything from me."
Troutman explained to Fannon that garnishing Hatmaker's wages would require a court order. Fannon then changed his motion to send bills to both Hatmaker and Sextlon.
The motion passed, with Hatmaker voting the only no.
Road repairs on 11th Street and others damaged by dump trucks owned by Jimmy Arnold were also on the agenda. After speaking briefly with the city attorney, Stanfield announced the council would meet in executive session after the meeting due to possible litigation over the street repairs. Troutman said there would be no actions taken and the council would not reconvene after the executive session.
Final business concluded came in the approval to accept a bid for rescue extraction equipment for the fire department. Four bids came in on extraction equipment and Fire Chief Gary Byrd recommended the council accept the low bid of $22,137 from Wynn Fire Equipment.
"They are giving us a life time warranty guarantee on the equipment and it meets the specifications we wrote," Byrd said. (03/05/2014 - 6:00 AM)
La Follette amends zoning ordinance to ban Suboxone clinic
Pictures & story by Charlotte Underwood
The La Follette City Council held the first and second reading of an amendment to its zoning laws, which was changed to include Suboxone clinic restrictions from C2 zoning areas.
Dr. Robert Taylor with Express Healthcare attended the meeting to discuss the issue.
Dr. Robert Taylor, with Express Health Care, attended the LaFollette City Council meeting to discuss the zoning issue. The board of zone appeals had already denied his request to allow the addiction treatment Suboxone clinic at the Central Avenue location he had leased and remodeled. Taylor said he was at the meeting just to "catch up and find out what was going on."
"I got a business I was bringing into town. I have a landlord who I talked to and to establish a business, I subsequently went to the planning commission. There is a zoning question on what I am doing. I am just asking does it make a difference. Does it matter that he (my landlord) knew there was zoning problems?" Taylor asked.
The La Follette Planning Commission and Board of Zone Appeals had blocked the clinic from opening up on West Central Avenue across from the big Riggs Drug Store when clinic representatives attended the planning commission meeting last Thursday and attempted to have the zoning restriction appealed by the board of zone appeals.
According to Codes Enforcer Stan Foust, the issue began about six weeks ago, when Foust first heard a pain addiction clinic had plans to move to town. Foust said he spoke with building owner Bill Cox and explained to him a medical facility could not open in that location due to zoning.
Despite this warning, the business continued to lease and renovate the building, as well as take out advertisement that it would have a new La Follette location with a March 3 opening.
Foust said he had spoken with a company manager who told him the company had done $40,000 worth of renovations to the building.
"And I told her it would not open, that it was not zoned for it," Foust said.
While at the meeting, Foust explained to Taylor that he had told his landlord the business could not open up in that location without first coming to the board of zone appeals for permission.
Foust explained to the council that he thought Dr. Taylor was asking the council to change the ordinance. Foust once again reiterated the city has set aside an area for these types of clinics in M1 zones.
Mayor Stanfield pointed out to Dr. Taylor that Foust brought it to his landlord's attention two months ago and that the issue of the location not being zoned for the clinic had not come out of the blue.
Mayor Mike Stanfield said he was glad the council had amended its zoning regulations to also include the exclusion of Suboxone clinics in C2 zones.
"I spoke with Mr. Cox in person and told him the zoning regulations would not allow the business to locate there. Mr. Cox understood what was going on; he has set on the zoning board in the past. Concerns were the zoning of the area. I explained you would have to come before the board of zoning appeals in order to get approval to have your business located there," Foust said.
Foust said despite warnings, the clinic had continued its push to open by March 3.
Dr. Taylor told the council he would like to explain what he did.
"I will give you a little bit about what I do and what I was bringing to the community. It is of significance. I get a group of folks and I take care of them and I take care of all their family medicine and they pay me a flat fee and I take care of them. Because there is a group of people that I treat that are addicted to drugs, I was put into a niche which I belong not," Taylor said.
Councilmember Stephanie Grimm asked Taylor out of 100 patients, what percentage was drug addicted? Dr. Taylor said he could not release that information due to possible HIPPA violations. Grimm seemed a bit incredulous and asked if he had any other locations.
Express Health Care has another location in Harriman, according to Taylor.
After his explanation of what he did, the council briefly discussed amending the city's ordinance to include wording that specifically barred Suboxone clinics from locating in C2 zones.
City Attorney Reid Troutman explained he had spoken with other legal counsel and that "basically, you have a zoning ordinance that puts pain clinics, Methadone and Suboxone clinics into one. We tendered this to MTAS by the way. It was their opinion that you could require them to go to a M1 zoning area." Troutman said.
Vice Mayor Joe Bolinger made the motion to amend the ordinance and Fannon seconded it. The motion carried unanimously.
Vice Mayor Joe Bolinger made the motion to amend the city's zoning ordinance to exclude Suboxone clinics from C2 zones.

According to Foust, it is not that the city wants to prevent these businesses from opening up in the area, but the rules have been established and M1 is the only area zoned for these types of clinics. According to the mayor, M1 would place the clinics on Old Jacksboro Pike or on East Memorial Drive.

After the meeting, Stanfield said he was glad the ordinance had been amended and that not only would it block the current Suboxone clinic from opening up off West Central Avenue, but would also prevent any other clinics from going into the area as well. (03/05/2014 - 6:00 AM)

Sheriff and police reports

By Charlotte Underwood

LaFollette Police make multiple drug arrests

The La Follette Police Department made several unrelated drug arrests over the week.

On Feb. 28, several people from Florida were arrested for possession of methamphetamine and schedule VI controlled substance after officers received a report of a disturbance at the Helen Ross McNab Center on W. Central Avenue. After arriving, officers found Randall W. Dixon Jr., and Von Eric Persinger standing at the rear of a vehicle. Victoria Nicole DeBoard was found sitting on a concrete wall, crying with some of her possession around her. Dixon acted nervous when officers arrived, prompting them to search him. During the search they found a white pill bottle with a small bag containing a powdery white substance, as well as a green leafy substance and six orange pills. Dixon was arrested and transported to jail. DeBoard, 27, was also arrested and charged with felony possession of methamphetamine with intent to resale and intent to deliver when officers found a small bag with clear white crystals in her purse and a pipe containing a green leafy substance on her person. Another small clear bag with off-white crystals was also found in an outer compartment of DeBoard's suitcase, according to the arrest report. She identified the off-white crystals as crystal meth. A bag of crystal meth was also found on Persinger, who was also arrested. In the vehicle, officers found a digital scale and a container of baggies used in the resale of drugs. A total of 15 grams of crystal meth was confiscated. All three were taken to the county jail.

A Jacksboro and La Follette woman were arrested on March 1, after officers responded to a local hardware business on the report of a suspicious van. When officers arrived, they found Wanda L. Madison, 41, LaFollette and Tammy Lynn Perry, 39, of Jacksboro, acting very nervous and moving as if they had put something away. Officers obtained permission to search the vehicle and the two women and found a colored change purse with six used syringes, two burnt spoons, and two slide strings inside the van. Officers also found three burn spoons, a burnt metal lid, and a wooden cigarette holder with a hand-rolled cigarette containing a green leafy substance as well as a metal box with five used syringes. Both women claimed the drug paraphernalia and were arrested and transported to jail.

In an unrelated incident, Douglas Ray Gibbs, 57, of Jacksboro, was arrested for criminal trespassing, drug paraphernalia and simple possession on March 3, after officers responded to Rose Hill Drive on the report of a disorderly person. After arriving, officers found Gibbs to be "very intoxicated" and continuously trying to go back inside the residence. Upon searching Gibbs, officers found a cigarette pack containing a green leafy substance believed to be marijuana, along with a pack of rolling papers. Gibbs was arrested and taken to jail.

Not wearing a seatbelt landed a Jacksboro man in jail on drug and other charges on Feb. 21, according to an arrest report.

Charles D. Smith, 43, was arrested for possession of schedule IV controlled substance near Hunters Branch Road. After stopping Smith for not wearing a seatbelt, officers learned his driving license was revoked. After a passenger exited the vehicle, officers also observed an orange oblong pill in plain view in the seat. Smith said the pill was his. He was arrested and transported to the county jail. The passenger, Elizabeth S. Boshears, 50, was also arrested on possession of schedule IV and II controlled substances after officers found a small round blue pill in her pocket and several small orange pills in her purse, according to the arrest report. She was then transported to the county jail.

In an unrelated drug arrest, a La Follette man was arrested on Feb. 23, after officers observed he had a non-working headlight. Wayne E. Byrd, 53, was charged with unlawful possession of a prescription drug and drug paraphernalia. After the traffic stop, officers noted Byrd did not have a driver's license. He was then arrested. While booking him into the jail, the intake officer discovered he had a syringe and five yellow pill capsules in his pocket, garnering him the additional charge of introducing contraband into a penal facility.

Speeding landed a La Follette man in jail on Feb. 18, after officers found he had a bag of marijuana in his pants pocket during the routine traffic stop at the east end of town. Justin Blake Adkins, 22, was charged with possession of a schedule VI controlled substance and drug paraphernalia after a pipe used to smoke the marijuana was also found in Adkins vehicle, according to the arrest report.

In an unrelated drug arrest the same day, officers also stopped Jessica Marie Roach, 19, of Knoxville, for speeding on East Central Avenue. During the traffic stop, officers noted a smell of marijuana coming from the vehicle. Roach also could not provide proof of an active driver's license. During the search of the vehicle, officers found marijuana and a pipe on Roach, as well as a passenger in the vehicle. The passenger, Kyle Christian Mattson, was also arrested.

Shelly Keith, 33, of Jacksboro, was arrested on Feb. 28, for criminal impersonation and possession of drug paraphernalia; after La Follette officers pulled a vehicle over that she was a passenger in. Keith gave several false names to officers before finally giving her real name, the arrest report said. Officers noted she had several outstanding warrants for her arrest. While searching her, officers found several syringes, a burnt spoon and a wooden pipe with a burnt residue inside her purse. She was arrested and transported to jail.

Jacksboro man arrested for breaking into Church

The Campbell County Sheriff's Department arrested Victor Lee Henderson, 21, of Jacksboro, on Feb. 25, after deputies learned he had broken into Berachan Baptist Church on College Hill Road. Henderson stole a Hitachi nail gun from the church as well as a chop saw and an air compressor. During the theft, Henderson also damaged the exterior door of the church. Total in stolen goods and damages exceeded $675. Through investigation, sheriff detectives learned the stolen tools had been sold to Derrek's Pawn. Henderson admitted to officers he had stolen the tools and pawned them to help his girlfriend pay her rent. He was arrested and taken to jail.

Speedwell man arrested on drug charges

A Speedwell man was arrested on drug charges after something he threw from his vehicle hit a patrol car traveling behind him, according to the Campbell County Sheriff's Department. Earl Adam Howard, 29, was arrested on March 1 after a deputy stopped his vehicle after observing something fly from Howard's vehicle and hit his own car. After searching the car, deputies located two used syringes in an Uncle Ray's Crunch Cheese Curls bag in the vehicle. A household spoon with a spongy white substance was also found. Howard admitted to deputies he had injected an Opana prior to being stopped. He was charged with possession of drug paraphernalia, arrested and taken to jail.

(03/05/2014 - 6:00 AM)

La Follette City Council Meeting 03-04-14

<>

Board of zone appeals blocks addiction clinic; approves Weigel's

By Charlotte Underwood

The LaFollette Planning Commission and Board of Zone Appeals blocked a Suboxone pain addiction treatment clinic from opening up on West Central Avenue across from the big Riggs Drug Store.

Five representatives from Express Health Care attended the Thursday evening meeting in the hopes of having the C2 location they had chosen in the old Chinese restaurant on West Central amended to allow the addiction treatment clinic. According to Codes Enforcer Stan Foust, company representatives and the doctor who attended the meeting were not happy with the results and were irate.

According to Mayor Mike Stanfield and Foust, the issue began about six weeks ago, when Foust first heard a clinic had plans to move to town across the street from Riggs' Drugs Store on West Central Avenue.
Express Health Care
"I had heard it was going to be a Methadone clinic, so I went and spoke with Bill Cox, who had leased them the building," Foust said, adding he had explained to Cox the building he owned was zoned C2 and could not house a medical facility without first coming to the board of zone appeals to seek approval.
Despite this warning, the business continued to lease and renovate the building, as well as take out advertisement that it would have a new La Follette location with a March 3 opening. Foust said he then contacted business manager Lori Barnett and explained to her the location was not zoned for the facility.
"She told me the company had done $40,000 worth of renovations to the building, and I told her it would not open, that it was not zoned for it," Foust said. He also said the office manager told him she had spoken to the planning commission and the council, which he knew to be untrue and told her so.
Express Health Care

"She tried to tell me that it was different and allowable since it was Suboxone and not Methadone," Foust said. After speaking with City Attorney Reid Troutman, who in turn spoke with the Tennessee Municipal League, Foust said legal counsel ruled a Suboxone clinic fell under the same category as Methadone.

Also according to Foust, the office Manager asked him what would happen if they went ahead with their March 3 opening date.

"I told her we would close the doors," Foust said, adding that to his knowledge, as of noon on Monday, March 3, the clinic had not attempted to open.

La Follette had previously voted in 2012 to change its zoning laws to only allow pain addiction treatment facilities in M1 zones. This change was done in reaction to several pain clinic and addiction treatment businesses "looking at La Follette as a possible location site," according to Foust.

"Our intent was to keep these types of businesses out of zone C2, which is why the ordinance was passed," Foust explained.

He said he wanted to add that it wasn't that the city was saying it didn't need that type of business here or anything, "it's that there is a specific zoning location that is set aside for them, and we can't change those rules." The city council is the governing body that would have to amend the rules to allow the clinic. Mayor Stanfield said he believed the issue would be brought before council on Tuesday evening, but he was not in favor of changing anything.

"We have set our rules, and we need to stick by our guns," Stanfield said, adding that in his opinion, Suboxone was "just substituting one drug addiction for another."

"If we amend the rules for this clinic, then that will just open the flood gates for others to seek amendment and move in," Stanfield said.

The only area in La Follette where an addiction clinic could be located according to the mayor is on Old Jacksboro Pike or on East Memorial Drive, but not right off of a main street, such as West Central Avenue.

(03/04/2014 - 6:00 AM)

Weigel's approved

Approved at the planning commission meeting was a site plan for a Weigel's gas station and convenience store to go in where the old Sharps Motel is located. According to Codes Enforcer Stan Foust, the Ninja Hibachi restaurant will be torn down, as will the old motel. Weigel's is currently in the process of purchasing the property. As of yet, there has not been a specific construction date set. Foust said he knew the store would be quite large, even bigger than one of the company's most recent builds in Oak Ridge.

"It's their biggest prototype store and their newest design," Foust said.

(03/04/2014 - 6:00 AM)

LUB approves HVAC bid; named in lawsuit

By Charlotte Underwood

The LaFollette Utility board approved the low bid to have the building's outdated HVAC system replaced. The system is over 20 years old and according to utility manager Kenny Baird, "blows cold air in some parts of the building and warm air in others."

The low bid came from Air Quest America Inc., a company located in Knoxville. The accepted bid for the work was $138,460. This will cover replacing the large HVAC unit with four smaller units, as well as the replacement of all the ductwork and the thermostat. The work will begin in about six weeks, according to Baird. Baird also told the board he had requested additional HVAC work that would add about $2,900 to the cost of the project which was also approved.

Before the meeting, LUB attorney Mike Hatmaker informed Baird that LUB had been named as a defendant in a civil lawsuit involving Valley Nursery. The nursery is suing Seelbach, one of the utility's tree-trimming contractors, who cut down some trees over a year ago in Claiborne County. The lawsuit is asking for $200,000, according to Hatmaker, who also said the Tennessee Municipal League (TML) would defend the lawsuit. According to Baird, any liability will be on Seelbach and its insurance carrier, not LUB's.

The next meeting is scheduled for March 31 at 7 p.m., with the workshop beginning at 6.

(03/04/2014 - 6:00 AM)

Campbell County Election Petitions requested for August 7, 2014, Election

(02/28/2014)

JUDGES:

Circuit –

John McAFEE

Chancellor –

Elizabeth ASBURY

Andy TILLMAN

Criminal –

Shayne SEXTON

District Attorney –

Jared EFFLER

Lori PHILLIPS-JONES

Public Defender –

Mark Eric BLAKELY

Leif JEFFERS

General Sessions –

Joe AYERS

Amanda (Mandy) SAMMONS

Kathy PARROTT

COUNTY COMMISSION DISTRICT ONE:

David ADKINS

N. Marie AYERS

Anthony DOSSETT

Whit GOINS

Paul E. HARRELL

Robert "Higgy" HIGGINBOTHEM

Marvin T. RUTHERFORD

Steve E. RUTHERFORD

COUNTY COMMISSION DISTRICT TWO:

Clifton "Tip" JONES

Scott KITTS

Bob WALDEN

COUNTY COMMISSION DISTRICT THREE:

Brent ALLEN

Wendell BAILEY

Scott GUNTER

Thomas HATMAKER

Cliff JENNINGS

Lawrence "Rusty" ORICK

Jason SHETTERLY

Scott STANFIELD

COUNTY COMMISSION DISTRICT FOUR:

Charles "Goat" BAIRD

Johnny "Coach" BRUCE

Charles Thomas BYRGE

Alvin ENGLAND

Ralph GRANT

Roy GREEN

Sue NANCE

COUNTY COMMISSION DISTRICT FIVE:

Forester BAIRD

Pam CARBAUGH

J.L. DAVIS

Carl B. DOUGLAS

Alvin EVANS

Robert HICKS

Ronald HUTSON

Terry SINGLEY

Ned G. SMIDDY

Charlie VERMILLION

COUNTY MAYOR:

William A. BAIRD

Thomas HATMAKER

Jack LYNCH

Marvin T. RUTHERFORD

SHERIFF:

Randy BAIRD

Robbie GOINS

A.O. "Pete" HATFIELD

Gary PERKINS

SCHOOL BOARD DISTRICT ONE:

Wallace W. GOINS

Rector MILLER

Dorothy MORGAN

Corey POSTON

Marvin T. RUTHERFORD

SCHOOL BOARD DISTRICT TWO:

Josh PARKER

Sharon Mills RIDENOUR

SCHOOL BOARD DISTRICT THREE:

Faye HEATHERLY

Scott HILL

Virgil KIDWELL

Gary SEALE

SCHOOL BOARD DISTRICT FOUR:

Clint BANE

Eugene LAWSON

Ronald David LEACH

SCHOOL BOARD DISTRICT FIVE:

Elsie Bates CRAWFORD

Crystal McNealy CREEKMORE

Johnny CREEKMORE

Allen MABRY

Ned G. SMIDDY

REGISTER OF DEEDS:

Beverly Stanfield HALL

Dormas MILLER

Danny E. WILSON

COUNTY ATTORNEY:

Joe COKER

TRUSTEE:

Everett (Monty) BULLOCK

CIRCUIT COURT CLERK:

Bobby VANN

COUNTY CLERK:

Alene BAIRD

Debbie WILSON

CONSTABLE DISTRICT ONE:

Sam IVEY

James McCULLEY

Maynard L. SWEAT

CONSTABLE DISTRICT TWO:

Larry R. FORD

Michael W. HEMBREE

Jimmy MYNATT

CONSTABLE DISTRICT THREE:

Joshua FUSTON

Bill A. RUTHERFORD

CONSTABLE DISTRICT FOUR:

Dewey MADISON

Samuel PHILLIPS

James Edward WILSON

CONSTABLE DISTRICT FIVE:

Kevin DIXON

Joseph DRAUGHN

Charles MARPLES

Paul WEBB

STATE REPRESENTATIVE 36TH DISTRICT:

Virgil KIDWELL – Democrat

Dennis POWERS – Republican

STATE SENATE 12th DISTRICT:

EXECUTIVE COMMITTEE:

Jim COBB - Republican

Bob COWAN – Democrat

Liz HOLIWAY – Republican

1st Baptist Church of LaFollette 03-02-14

<>

I-75 accidents near MM 157 on March 3, 2014
$175K in cash seized in Elk Valley drug raid
Sheriff Robbie Goins directs an early morning raid that leads to a major drug dealer. All tol, $175,000 in cash were seized along with 49 guns, six vehicles, four ATVs, four bags of marijuana, and hundreds of assorted prescription pills. Sheriff's investigators along with the 8th Judicial Drug Task Force raided the home of Edgar "Whitey" Muse in the Elk Valley community on Friday morning. Sheriff Goins tells WLAF that after months of lengthy undercover drug investigations the evidence collected during the raid on Muse's home will be presented to a grand jury for his indictment and arrest.
Sheriff Robbie Goins (C) and staff size-up cash & items taken in the raid
Goins goes on to say that arrests are imminent after results are returned from the TBI lab, and the case can be presented to the grand jury for indictment, arrest, and prosecution in Campbell County Criminal Court. The sheriff explains that "we are sick and tired of these people who don't work, sell drugs, pillage off the addicted, and ruin our communities." He adds that this is the sixteenth or seventeenth drug raid we've conducted over the past year, and the story is always the same.
(03/03/2014 - 5:30 AM)
"Ruby of the Valley" is honored
It may have been the best kept secret ever in the Valley View and Fincastle communities. Sunday morning's surprise day of appreciation for one Mrs. Ruby Childress was indeed a surprise for the long-time school teacher. Valley View School teacher Ruby Claiborne Childress, aka Miss Ruby, was honored at Fincastle Methodist Church by a sanctuary of former students, principals, cooks, and janitors as well as the congregation of her church. Many people spoke including JoAnn Jones who clued us in on how the name Miss Ruby came about. In all of her young nine years, she had always called her Ruby and thought it was awkward to call her Miss Claiborne.
Jim Goins was one of five students from Miss Ruby's first class present during Sunday's ceremony. He presented her with a plaque from the members of Fincastle Methodist Church
Jones explains that as a nine-year old fourth grader in Childress's room, she and her mother came up with the name Miss Ruby. Childress was OK with it, and from that first year in the classroom in 1948, it's been Miss Ruby ever since. County Mayor William Baird proclaimed Sunday, March 2, 2014, as Ruby Childress Day in Campbell County, and Director of Schools Donnie Poston presented the plaque to Miss Ruby. Childress taught Poston in seventh grade at Valley View School, and he was also her principal for 19-years.
Director of Schools Donnie Poston presents the "Ruby Childress Day" in Campbell County proclamation from County Mayor William Baird to Miss Ruby
Poston pointed out that he and Miss Ruby were at Valley View School a total of 27-years together. He calls her the longest serving teacher also serving the same school for the longest time. All-in-all, Miss Ruby, who turned 83 in December, has taught for 62-years. She began teaching at age 17, later, she took off four years to start raising her two sons, Bill and Greg, and then returned to the classroom.
(03/03/2014 - 5:30 AM)
Former Vol Ellis honored; singles-out La Follette's Balloff
Former Tennessee basketball All-American Dale Ellis (1979-1983) had his jersey retired Saturday at Thompson Bowling Arena before the start of the Tennessee-Vanderbilt basketball game. During the pregame ceremony Ellis gave a brief statement during which he thanked La Follette`s Ed Balloff. Below is the ceremony not seen on TV. (updated 03-02-14 11:45 AM)
Watch WLAF Channel 12 Below
2014 Campbell Football Schedule
May 22 Orange-n-Blue game H
August 14 or 15 Jamboree at Neyland A
August 22 Cumberland Gap A
August 29 Lynn Camp H
September 5 Central * H
September 12 Anderson County* A
September 18 Clinton* A
October 3 Oak Ridge* A
October 10 Gibbs* H
October 17 Open Date - -
October 24 Karns* A
October 31 Powell*(SN) H
Miss a WLAF news story?
Maybe a friend told you about a story here on 1450wlaf.com, and you can't find it? If it's not on this front page, simply check our News Archives. That link is up this page a bit and to the left. Thank you for visiting 1450wlaf.com.
Join Tony Basilio
Saturday nights at 9:00 PM over 1450 WLAF AND WLAF-TV 12

Presented by these outstanding corporate partners:
B & M Tires - Joe Whited & Benny Roberts
American Cable-Dish Network
KPs Bar B Que
Senior Citizen Insurance
East Tennessee Boat & Truck Repair
Jeff Sweat Investment Services
Pop's Wine & Liquor
Doug Boshear's Paving
Valley Roofing
Paul Construction
Kash & Karry Building Supply
Minton's Tire & Service Center
Beltone Hearing Aids
Join Tony Basilio
Saturday nights at 9:00 PM over 1450 WLAF AND WLAF-TV 12