CLICK to listen LIVE to 1450 WLAF CLICK to watch LIVE WLAF-TV 12
NEW HOURS AT SMITH HARDWARE
OPEN MEMORIAL DAY 8:00 AM - 3:00 PM
Monday-Friday 7:30 AM - 7:00 PM...Saturdays 7:30 AM - 5:30 PM
Smith Hardware is NOW OPEN on SUNDAYS from 1:00 PM - 5:00 PM
Get the Time & Temp anytime, call 423.566.8463, a service of Terry's Pharmacy
WLAF's "Business of the Day" today is:
La FOLLETTE COURT ASSISTED LIVING – Locally owned 423.562.6730
Shop local. It helps all of us.
Photo from home
"It is foolish and wrong to mourn the men who died. Rather we should thank God that such men lived" – General George S. Patton. WLAF reprints Charlotte Underwood's tribute to our veterans from November of 2013 (further down this page)
Memorial Day ceremonies this morning
11:00 a.m. at the Veterans Memorial at Jacksboro
A wreath laying ceremony was held Saturday at Jellico Veterans Park. This morning at 11:00 a.m., a ceremony will be held at the Veterans Memorial on the lawn of the Campbell County Courthouse. The Campbell County Honor Guard will present the colors, fire a 21-gun salute, and play Taps.
(05/25/2015 - 6:00 AM)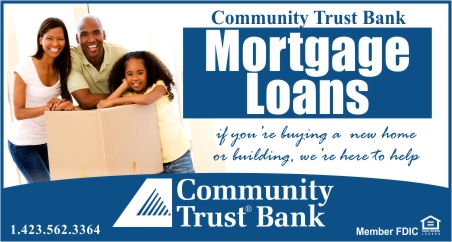 Keepers of the Flame; a Tribute to Veterans
By Charlotte Underwood from November 2013
You see them every day. You pass them on the sidewalk and in the grocery aisles. Perhaps one is your neighbor or sits next to you at church. They are even your friends and family. But do you know their story? Do you know their sacrifice? Do you know the love and honor and duty they gave to this country? They are our veterans. They come from all walks of life and span many years, multiple wars, times of conflict and peace. But they all have one thing in common. No matter their age, whether they guarded the home front or their boots touched foreign soil; they are heroes of a nation. More than that, they are the hometown heroes of Campbell County and each has a story to tell. They are the "keepers of the flame," according to army veteran General Carl W. Stiner.
In honor of Veterans Day, several veterans living in Campbell County were kind enough to share experiences and memories from their time in the military both at home and overseas.

Navy veteran Edward Balloff, WWII
Navy veteran Ed Balloff enlisted in the naval reserve in 1939. Balloff was 20 years old and in the middle of law school at Vanderbilt when he enlisted.
In order to go into the naval reserve and quickly get back to his legal studies, Balloff had to meet certain requirements.
World War II veteran Ed Balloff spent the war in the United States Navy.
"We were what they called 90-day wonders; if you had a degree, you weren't married and could pass a physical, then you could go into the reserve," Balloff said.
"They were drafting people, so I enlisted in the reserve. At the time, they told me I would just be taking a two week cruise in the summer and then the war started and I was the first student they pulled out of law school," recalled the 93-year-old veteran with a rueful smile.
Born and raised in La Follette, Balloff soon found himself training on an old World War I warship called the Prairie State, which was anchored in the Hudson River at 195th Street in New York.
"It looked like Noah's Ark," Balloff described. There were 1,000 midshipmen being trained on the ship, men from all over the country and all of them single and with college degrees. If you did everything right and passed all your tests, then you got to go ashore and have "liberty", which basically meant you got to go have fun and have some time off from military duties. As Balloff put it, "New York was a great place to have liberty." He described the city during his time there as "full of midshipmen and sailors."
"We would get off the ship and walk to Broadway and catch a subway. A lot of us would go to the Astrotel, which had a bar and an orchestra that played all the time. There was always girls hanging around you could dance with; you didn't have any trouble having a good time in New York City," Balloff said.
Trained as a gunfire liaison officer, Balloff would go ashore with the army and help spot navy guns. This was in the Atlantic.
"The first place we went, some army camp, we spotted navy gunfire, after the army troops went inland, we went back to the ship," Balloff said. After that he became a line officer, before ending up on an Amphibious Staff as a gunnery officer responsible for taking LSTs (landing ship, tank) to Europe. LSTs is the military designation for naval vessels created during WWII to support amphibious operations by carrying significant quantities of vehicles, cargo, and landing troops directly onto an unimproved shore.
"We would load them at the Naval Depot in Yorktown to take ammunition to England for the invasion of France," Balloff said.
Afterwards, he was sent out into the Pacific Ocean to be stationed on another amphibious staff. After leaving San Francisco, he spent four months out in the ocean looking for the staff. While he was out looking, the staff had returned to the U.S. and by the time Balloff himself returned to the U.S., the war was finally over.
During his time in the military, Balloff met many people. He recalled one of the more memorable characters from his military days as a fellow soldier who he trained with.
"I had some of my training with a guy named Sam Ballard. When we were at Notre Dame, he slept in the bunk above me. His father was the editor of the Times Picayune in New Orleans. Sam Ballard would sing these French ditties and let's just say once you heard them translated, they weren't as funny as they were in French," Balloff said with a laugh.
Shortly before he and Ballard were shipped off to different regions of the war front, Ballard asked to borrow Balloff's alarm clock.
That was the last Balloff saw of Ballard for four years, until the war's end.
"I was at a naval hospital in San Diego and just out of the blue I heard this voice singing these familiar French ditties. Well, there was Sam Ballard lying on his stomach in a hospital bed because he had been shot in the butt. He laughed and said, 'Ed, I've got that clock of yours' and he did, he gave it back to me, of course I don't think it even worked anymore; it was all rusty because he had been out in the Pacific," Balloff laughed.
When he did return home, he resumed his studies and obtained his law degree. He remembered the war being something that no one really talked about much.
"When we came back, everyone was involved in the war. All the women were working and when the war ended, we came back and went on our merry way," Balloff said, adding that no one necessarily acted like it was a big deal to be a veteran at the time.
"We didn't even think about the war when we got back; nobody asked us what it was like and we just wanted to get on with our lives," Balloff reflected. "When we were over there, we knew we were in it till the end. When the war was over, well, thank God we got out alive." (Sadly, Ed Balloff passed away in 2014)
Air Force veteran Jo Anne Myers, Cuban Missile Crisis
Air Force veteran Jo Anne Myers enlisted in 1960 because it was something different to do, something maybe a "little rebellious."
"I always wanted to travel and do something different. Back in my era, there were limited opportunities for women and I wanted something more challenging, so I signed up," Myers said.
She was stationed in Texas during the Cuban Missile Crisis, which, according to Myers was "pretty intense."
"We were on lockdown and you had to call in all the time; we had to report our whereabouts at all times," Myers said, recalling getting military briefings and updates in the movie theatre at the military installation.
"We really had no idea how serious it was until later; when you're 20 years old, you think you're going to live forever," Myers said, adding that she remembered reading about it later and thinking how close the country came to a nuclear event. During her time in the military, Myers was trained as a dental hygienist and had the opportunity to work with astronauts.
While working as a dental hygienist, Myers said it was exciting to meet people like Charles Conrad, who was the second man to walk on the moon.
"He had a small split between his top two teeth and he was very concerned about it," Myers said, recalling Conrad as being a "very nice man." She also met John Glenn after his Apollo 11 flight. Glenn was the first American to orbit the earth.
When Myers signed up for the Air Force, she had wanted to be a pilot.
"They told me no way, that's not going to happen. It wasn't until later women were allowed to become pilots," Myers said. She served in the air force for three years and recalls the bonds she formed with fellow soldiers during that time.
"I did my training at Lackland Air Force Base and I am still in touch with some of my friends from those days. Now we keep in touch with Facebook, which is something I never would have imagined then," Myers said, adding that she had good memories of her time in the military.
"I served with nurses that were later sent to Vietnam and I can't imagine what they experienced there, but women have always been on the forefront of war whether we want to recognize it or not," Myers said. As far as being a veteran, she said she didn't think about it too much. "I am proud to have served my country. The experiences meant so much to me and I learned so very much, but I don't think it separates me from other women who have not served."
Army veteran, Gen. Carl W. Stiner, Vietnam
"There's a great honor to serving one's country and preserving our peace for the future generations," said General Carl W. Stiner. Commissioned as a second lieutenant in the United States Army in May 1958, General Stiner served his country for 35 consecutive years, before retiring in 1993. A veteran of Vietnam and multiple other conflicts, General Stiner recalls how difficult it was for soldiers returning home from that war.
General Carl W. Stiner is retired from the U.S. Army and is a Vietnam veteran.
"The hard part was while we were over there fighting, the peace movement had taken place back home and we didn't know the consequences of that. When the troops started returning, they were treated terrible and some vets were even killed in Oakland, Calif., just because they were wearing their uniforms. But those of us who were there knew we were doing the right thing; trying to stop communism," Stiner said.
Over the years, over 30 million men and women have proudly worn a U.S. military uniform.
"They are the keepers of the flame. They wore those uniforms in the hope and belief that America would always remain a land of liberty and peace because of their actions and by their sacrifice they have secured our inalienable rights and our freedom," Stiner said, adding that the "blessings are ours only as long as we are willing to sacrifice to retain them."
Over one and a quarter million soldiers have paid the ultimate sacrifice, giving their lives so that others may remain free.
Army and coast guard veteran, George Moses
A veteran of both the army and the coast guard, George Moses said he graduated basic training two days after Vietnam ended.
"I was young and volunteered for the army to go to war. All through basic training, they told me I was going to war and then suddenly it was all over," Moses said. With Vietnam having just ended and the peace movement in full swing, the country was a volatile place for soldiers returning from war, as well as current soldiers traveling for their duties.
"When I was in the army, Vietnam was ending so I would travel in my civilian clothes to the airport to keep from being assaulted by protestors," Moses said. Despite this negative experience as a military man, Moses said he enjoyed his time in the military and that it had made him "grow up." While in the army, Moses was part of a nuclear detection unit attached to the 82nd Airborne.
"I have always been proud of being a veteran and of my military time, but I haven't always been proud of the American people and how they treated veterans and soldiers," Moses said, adding that he felt it was hard for those who had not served in the military to "truly understand what it means to be a veteran and serve one's country."
Army veteran, Mike Stanfield, Vietnam
La Follette Mayor Mike Stanfield knows what it means to serve, though he did not enlist by choice. Drafted into the army to go to Vietnam at the age of 20, Stanfield said he was proud to have served his country nonetheless. Having never been out of Campbell County, Stanfield suddenly found himself traveling across the country for training and then quickly shipped to Vietnam to fight a war he was really too young to understand.
La Follette Mayor Mike Stanfield, far right, spent one tour in Vietnam. Most of his time was spent as an MP, or military police officer.
"Being a veteran, serving your country, well, it was like a job; you gave it 100 percent and just hoped you got to come home to your family. We've all done things we didn't want to do, but we had to do it." Stanfield said.
He completed one tour of Vietnam from 1971-1972.
"I had only been married about three months and my wife hated I was going to war; she didn't know what was going to happen to me and neither did I," Stanfield said. Trained as a heavy equipment mechanic, Stanfield was sent over seas.
"When I flew in and first got a look at the place, I noticed there were all these black bags lined up on the beach; they were bodies waiting to be flown home on the same plane I had arrived on." He said he remembered thinking, "God, what have I got into here?"
"When we landed in the holding station that was Cam Ranh Bay, I got my orders to go to Da Nang and even though my MOS (military occupational specialty) was as a heavy equipment mechanic, I was assigned to be a cop, an MP," Stanfield said, explaining that was how the military worked.
"If they need a cop, then you're a cop; for a while, I was even a pots and pan man in the kitchen. In the army, it's what they want you to be and that's what you are," Stanfield said. After settling in, he was assigned to the 87th Infantry Company, which was part of a transportation company. As a military police officer, Stanfield helped to provide security for troops and equipment in Da Nang, which was a compound about the size of LaFollette. During this time, he saw a lot of his friends and fellow soldiers die. He described the stress-full atmosphere that contributed to so many Vietnam era vets returning home with drug addictions.
"Each day you were always wondering if it would be the one that would take you out; there was so much death and shells going off all around you," Stanfield said. He also recalled returning home from the horror of war and arriving in Oakland, Calif., to an ungrateful public.
"People were spitting on us and calling us names; it was turmoil," Stanfield said. Like many other veterans, he attempted to find solace in alcohol.
"I haven't drunk in 20 years, but I did then when I came back from the war. I drank to forget it all," Stanfield said. And though many years have passed, he has never forgotten.
"I can still see their faces sometimes; I can still see the death." Yet despite all this, Stanfield said he would not trade the time, nor did he regret serving his country.
"What I did was nothing compared to what some soldiers gave."
When he was back home in La Follette, Stanfield said he and his wife wanted to have a child.
"Lisa really took away that void that war had left in my heart," Stanfield said.
Civilian, Rae and Greg Mihal, Dessert Storm
Civilians have served in times of war as well. Rae Mihal and her husband Greg are two prime examples of civilians serving their country and soldiers in a time of need during the Gulf War. The Mihals spent about 20 years living in Saudi Arabia because they worked there in the oil industry. They have lived in Campbell County since 2000. Coming from a family of military supporters and enlisters, Mihal said she felt a strong compassion to help the American troops. She currently has two grandchildren enlisted in the military.
Campbell County resident Rae Mihal, along with her husband Greg lived in Saudi Arabia and participated in the Host a Soldier program. She stands surrounded by Gulf War soldiers whom she took into her home during prior to the war's start.
"We stayed in Saudi Arabia during the build up of armed forces and the proceeding Gulf War. We saw our brave young men and women from all branches of our armed forces getting ready to right the wrong done when Iraq invaded Kuwait, not knowing who would live and who would die," Mihal said. She and her husband participated in a "Host a Soldier" program that changed their lives forever. They would host soldiers about three times a week.
"The troops were brought by bus across the dessert and offloaded into cars and vans outside our gates. When they came to us, they were dirty, smelly and scared," Mihal recalled, adding that the troops had arrived overseas well before their supplies and some of them had been in the same socks for a week.
"They would feel so bad and not want to even take their boots off or come in the house because they were worried about their feet smelling," Mihal said. She and her husband would send them straight to the shower, she would start their clothes in the wash and the soldiers would be given some of her husband's clothes to wear while theirs were washed and dried.
"They were just so grateful for the smallest of things, hot meals, clean clothes, stamps and envelopes or a chance to call loved ones at home; we were able to provide that in gratitude for their service and those times were some of the best of my life," Mihal said emotionally. She would bake cookies and take them out into the dessert in bushel baskets. Other Americans living and working over there participated in the program as well.
"They would take them ice cream, they would take grills out into the dessert and cook them breakfast; anything to make them feel appreciated," Mihal said.
Having lived in Saudi Arabia for so long, Mihal did not see her family or even Americans often and suddenly her home was filled with young American soldiers homesick and scared.
"They were like family," Mihal said, describing a house full of soldiers for Thanksgiving, Christmas and much of the time in between. While in Saudi Arabia, she did get to see her brother who was in the military at the time. She had not seen him in about 10 years.
Rae Mihal had a house full of female soldiers for Thanksgiving.
"His commanding officer allowed him to come and stay with me and that was so special."
The Mihals received several awards from the U.S. military for their efforts and support of the American troops.
"I wouldn't trade anything for the time spent being with our soldiers. When they say our bravest and our best, that's our military; it is just astronomical what these young people do and give to protect us and our lives."
From all of us here at WLAF, thank you to all of our veterans.
(REPRINTED FROM NOVEMBER 2013 - PHOTOS SUBMITTED)
Delinquent tax sale makes for a busy day
Record day for Clerk & Master
Typical crowd. That's how longtime, now retired, Clerk and Master Bill Archer summed up the attendance at today's delinquent tax sale at Jacksboro. And "typical" is a full house in the lower courtroom of the old section of the courthouse. People come from everywhere and bring their cash. Pockets, pocketbooks, and briefcases are filled with cash for most all who attend the annual sale today.
More than 200 pieces of property were on the auction block this morning as County Attorney Joe Coker and new Clerk and Master Dennis Potter conducted the auction. The use of computers, compared to the old days of pen and receipt book, makes for a lot less work and a more efficient way to prepare receipts.

(05/22/2015 - 1:00 PM)
Changes abound for Jackson Heights & Knox Housing Partnership
Name changes and facelifts continue
On a rainy day, last October, the transformation of the drug and prostitute infested Jackson Heights Apartment Complex on Nevada Avenue began. That's when Jackson Heights became Nevada Heights. The raindrop covered groundbreaking triggered changes that continue today.
Today signaled the name change of the Knox Housing Partnership to HomeSource east tennessee. HSET spokesperson Rhonda Clay tells WLAF that since Knox Housing Partnership is doing so many projects inside and outside Knox County, a name change was only fitting; thus today's celebration.
Upon completion, Nevada Heights will have17 units of fully renovated affordable apartments, available to low-income households. Five of the 17 units have been set aside for seniors.
La Follette's Peoples Bank of the South is one of the lending institutions that is providing the funding. Logan Hickman, Executive Vice President at Peoples Bank of the South told WLAF last year at the groundbreaking that this project is literally in our back yard.
Clay calls it accessible, affordable housing, and HSET is now taking applications for tenants for Phase One that is expected to be completed sometime this fall. The number to call about leasing is 865.970.1777.
(05/22/2015 - 1:00 PM)
Martin's Orange takes the O & B Game
WLAF's Les Martin, the radio, TV, and DOTCOM Voice of the Cougars, was the honorary coach of the winning Orange Team on Thursday night at Pat Kerr Field. Martin calls it an honor to have been on the Cougars sideline for the 25 to 17 win over the Blue. Martin has been the only voice calling all the games during the Price Era at CCHS, and that makes him the winningest broadcaster in the history of Campbell County Cougar Football.
Campbell opens the season on Friday, August 21 at 7:30 p.m. against the Gibbs Eagles at Dossett Stadium. Martin and the WLAF crew will be there to send you the action.
(05/22/2015 - 6:00 AM - DAVID GRAHAM PIX)
L-R Blake Kitts, Johnny Seal, Eddie Hatmaker, Donnie Cross, Shawn McGlone, & Dusty Davis of the La Follette Fire Department's "A" Shift spent Thursday cuttin' up cars.
LFD's "A" Shift sharpens its "A" game
Unsung heroes quietly go about honing their life saving skills
These guys never get any recognition. They just save lives and move on to the next challenge. They'll tell you that it's all just a part of a 24-hour shift. The "A" Shift of the La Follette Fire Department started its day Thursday at 7:00 a.m., but it wasn't a typical day. It was a training day on the Jaws of Life. Crew members are required to log eight-hours of extrication time on the equipment annually, and Thursday was that day for 2015.
It takes a good amount of upper body strength to use the hydraulic rescue tool. Eddie Hatmaker cuts through the back door of the blue practice car provided by Maynard's Auto Parts.
Maynard Sweat with Maynard's Auto Parts supplied the practice cars and even hauled them to and from the practice site in the old bowling alley parking lot. And did the team of six practice! They cut, pried, and rammed a couple of vehicles. Then they flipped 'em and attacked from the top up and bottom down.
Aside from practicing cut, spread, or ram techniques, the heart of Thursday's training centered around safely and quickly extracting patients
Though EMT Shawn McGlone handles the cutter with relative ease. It's not light by any means. McGlone says it weighs a good 60-pounds. There are many pieces of equipment with the Jaws of Life; the spreader, cutter, ram, and several stabilizing jacks. Firefighters change in and out of gloves as needed with the extricating gloves being not as bulky as their fire gloves. The medical gloves were used Thursday when they practiced taking a person out of the cars.
The six-man crew spent the day in the parking lot of the old bowling alley which is just a stone's throw from Traffic Light 5
The "A" Shift was the first La Follette crew to use the Jaws of Life after the city bought the life saving tools with funds from the La Follette Medical Foundation in March of 2014. Veteran Firefighter Eddie Hatmaker, 26 years at LFD as of May 6, says the "A" Shift has performed seven extraditions in all, most of any LFD shift.
In this simulation, Johnny Seal is cutting out the windshield to get to the patient
First Responder Johnny Seal recalls one extrication where the two front doors, the front seat, and one whole side of the truck was taken out to remove a woman with a broken hip. He says she was fine with them cutting up her new truck to get her out adding that you never know when someone could bleed to death in a mishap like that.
After lunch, the car was flipped, & the "A" Shift went to work from the bottom inward
Hatmaker notes that the hydraulic rescue tool aka the Jaws of Life paid for itself the very first time it was used last year. LFD, Caryville, and Jacksboro all now have the Jaws of Life tools. The La Follette Rescue Squad has had a Jaws of Life for years. The first known Jaws of Life used in the U-S was back in 1963.
(05/22/2015 - 6:00 AM)
Number 1, Justin Bowlin, is one of the quickest players to ever wear the Jellico Blue
shown here versus Sunbright
Tennessee's all-time assist leader signs
Justin Bowlin inks with UVA-Wise today
He did it all. And then some. For Jellico High School. Number 1 in the blue and white is moving on up to the college ranks. Justin Bowlin, who broke the state's all-time assist mark half-way through his senior season, signed this morning to play college basketball with the University of Virginia at Wise Cavaliers. Bowlin started all four seasons for Coach Mike Reynolds Blue Devils, and led JHS to a lot of wins in that span of time.
It's a big day at Jellico High as Justin Bowlin signs to play NCAA college basketball
Bowlin's ball from Coach Mike Reynolds recognizes his new State of Tennessee all-time assist mark
UVA-Wise is a member of NCAA II and the Mountain East Conference. Bowlin and the Cavs will take on the likes of LMU, West Virginia State, ETSU, the University of Charleston, and others in the 2015-16 season.
(05/21/2015 - 4:00 PM - DAVID GRAHAM PIX)
Bowlin takes it to the hole and scores against Oliver Springs
The high school art show is Sunday
2:00 p.m. – 4:00 p.m. at CCHS
It's a long standing tradition at Campbell High. The Art Show. The students of art instructor Georgea Green host their annual "Student Art Show" on Sunday at the high school. The event is open to the public and showcases some incredible creations by Green's talent laden students. Green tells WLAF that some students may even sell some of their creations, and that many pieces are award winning works. Students will be awarded ribbons and cash on Sunday. Some of Green's students took part in the "tobacco free parks" campaign, and you can see a sample of their talents by clicking here.
(05/21/205 - 6:00 AM)
Graduation televised "live" on WLAF-TV 12
See the CCHS ceremonies Saturday, May 30 at 10:00 a.m.
Countdown to May 30th is creeping along for Campbell High Seniors. WLAF brings you another first. The 2015 graduation ceremonies from LMU will be televised live over WLAF-TV 12 on Saturday, May 30 at 10:00 a.m. WLAF's Charlie Hutson, LHS Class of '75, snapped this photo.
Aquaknox at your service
By Susan Sharp
If you are looking for a dealer that will put you in the right boat and take care of you after the sale, look no further than Aquaknox at Shanghai Marina. An added benefit, is you can have lunch at the dock while you make the decision to buy or are waiting on routine service, said Managing Partner Bryan Courtney.
Aquaknox is a relatively new company in Campbell County that is making a big splash. Started in 2012 by the Courtney family, which includes father Dalan and mother, Susan, Aquaknox is striving to meet all of the aquatic needs of those who frequent Norris Lake. "We basically service everything but personal watercrafts. We also handle the warranty work for Mercury, Yamaha, Indmar and the brands we sell," Courtney said. Those brands include Mercrusier, Mercury, and Chaparral. Harris, Manitou and Tige. Aqauknox is equipped to handle all parts of service for these crafts expect for vinyl and upholstery work. That gets contracted out, according to Courtney.
When it comes to service, Aqauknox prides itself on being on the cutting edge of marine expertise. Courtney and his staff are focused on continuing education attending several conferences a year. In the past year, they attended four. They also added another layer of training by contracting with a consultant who will conduct monthly reviews and nationwide peer meetings.
Along with the knowledge the Aquaknox staff brings to the table, they also bring convenience. The company offers online scheduling at www.aqauknoxmarine.com. "We can handle pickup and delivery while our clients are at home," Courtney said.
The telephone number is 423.566.9529.
Among the many values that Aquaknox upholds, they also see the value of fun. Through the years, Aqauknox has been involved in continuing education, accountability programs and consumer education, but there is one above all else Courtney wants to see his clients experience- "Our ultimate goal is simply being fun to work with," he said. "We want our customers to look forward to calling on us." The belief at Aquaknox is that when people walk away from a transaction, they should feel as though they got their money's worth.
Currently, Aqauknox is a standalone operation that is experiencing growth. Courtney estimates the marine center will see 750 boats this year. And while that projection is exciting, it could be more than the four employees can handle. According to Courtney, during the summer months, Aqauknox will add three additional employees. Right now, he is also looking for a mechanic.
"We are desperately trying to add another full-time marine technician," Courtney said. In fact, he is encouraging people to apply for this position before summer blitz begins.
(05/21/2015 - 6:00 AM)
Morale, money, and mixed emotions
Monty Miller returns to work on Monday
Monty Miller remains with the La Follette Police Department this evening. After 90-minutes of wrangling, loud voices at times, and a unanimous vote by the La Follette City Council, Detective-Lieutenant Monty Miller is now a patrolman with the LPD. It was a skeleton audience that attended today's 4:00 p.m. special called meeting at City Hall to discuss the employment status of Detective-Lieutenant Monty Miller. This was the last option for mediation between the City of La Follette and Miller since Miller and LPD Chief Jimmy Jeffries were not able to reach a resolution surrounding an April 10 incident in Jeffries office when Jeffries said Miller quit, and Miller saying he did not quit.
Council member Bob Fannon explained that there were three basic options on the table. One was that Miller be hired in his same position and salary. A second was that he be hired with a demotion and cut in pay. The third was to discharge or as City Attorney Reid Troutman put it, "the city takes the position that Miller resigned."
In the end, council voted unanimously for Miller to stay on the force, as a patrolman, and take an eight-thousand dollar a year cut in pay. Jeffries expressed his concern for morale within the department if Miller was offered anything more. Miller's attorney, Scott Miller tells WLAF that we're pleased that he's back to work; pleased to put this behind us. Attorney Miller goes on to say that this is obviously not the result we wanted, but a result that we're going to try to see if we can live with. Miller's new, adjusted salary is right at $30,000 a year, and he is also on a six-month probation (same as for a new hire).
At the crux of the matter, voiced during the meeting by the Chief, is Miller's general disrespect for Jeffries, his not coming in on time and not calling-in when he's running late. The fact that Jeffries and Miller, before Jeffries became the chief, were best of friends was referenced several times by several different people during the meeting. Jeffries noted that Miller has had many chances.
Miller, who spoke publicly for the first time, expressed that he's wanted more detectives in his department. He pointed out that there are six to ten felony reports coming in everyday. During Miller's on-stage address, he also said, "I'll make it work."
(05/21/2015 - 11:30 AM)
Caught! Last week's Lee's Market robber is nabbed
In custody at Knox County Jail
You may have read the story on him last Friday morning right here. You likely saw his pictures and store video here as well. But you didn't know who he was. Until now. His name is Walter John Meachum, III. He's a 21-year old young man from Caryville who is the primary suspect in the May 14 armed robbery and shooting at east Campbell County's Lee's Market aka the Frontier Gas Station. He is also a suspect in the recent robbery of the Racoon Valley Pilot. At this hour, he's in his "home away from home" at the Roger D. Wilson Detention Facility in east Knox County.
Walter John Meachum, III
Meachum's car was spotted last night in Rocky Top aka Lake City in the parking lot of the Scottish Inn Motel. Officers with the Anderson County Sheriff's Department were soon able to take him into custody.
Though only 21-years old, Meachum is building a rather impressive crime resume`. He has been booked through the Campbell County Jail two times. As investigators continue combing over evidence, state charges are pending against Meachum. Assistance from the U.S. Attorney General has been requested given that Meachum is suspected in several violent crimes. Authorities tell WLAF News that state charges are imminent, because he's already a convicted felon stemming from his use a weapon in commission with a violent felony. He's also high jacked a car.
CLICK HERE to see images of robbery suspect
CLICK here to watch robbery footage
Last Thursday night, Meachum is believed to be the person who, around 10:00 p.m., robbed the east Campbell County at gunpoint. A girl was shot in the leg during the robbery. Chief Deputy Aaron Evans with the Campbell County Sheriff's Department outlines for WLAF that late on May 14, Lee's Market, once known as the Frontier Store was robbed by a man who stormed the convenient market wielding a handgun. He says shots were fired at random by the suspect, and as a result, the 12-year old youngster was struck in the leg. The youth was airlifted to the UT Medical Center with non-life threatening injuries and is now recovering at her home. The robber then stole a car and headed east toward Claiborne County before ditching the car just a few miles from the store that's located east of La Follette along the General Carl Stiner Highway. Evans says the suspect did make off with some cash from the store.
(05/20/2015 - 1:00 PM)
Department of Family Services now involved in death of toddler babysat by Bartley
By Beth Braden
Child protective services is now investigating the death of 3-year-old Beckett Josef Podominick, the toddler left in the case of convicted Campbell County High School shooter Kenneth Bartley, Jr.
News broke last week that Bartley was babysitting Podominick for Erin Tepaske, his former counselor-turned-roommate on Mother's Day when the child reportedly suffered a fall. He died two days later from a head injury, according to the Vienna, Va., police department.
On Tuesday, Virginia's Department of Social Services told WLAF that child fatalities in Virginia are investigated by child protective services when "child abuse and/or neglect are suspected." Those deaths are also reported to the medical examiner and the Commonwealth Attorney's office.
"In terms of the death of Beckett Podominick, we can confirm that the Fairfax County Department of Family Services is investigating this death," said Joron Planter, public relations rep for the Virginia Department of Social Services
It was unclear when the DFS aspect of the investigation began. Results of Podominick's autopsy are not yet available, though Tepaske has reportedly said Bartley is innocent of any wrongdoing.
Bartley moved to Vienna—a suburb about 20 miles west of Washington, D.C.—with Tepaske in February in order to avoid jail time after multiple run-ins with the law following his 2014 release from prison. Before leaving Tennessee, he was outfitted with a monitoring device to detect any alcohol consumption and was supposed to attend drug and alcohol rehabilitation while he was in Virginia. A court order from Judge E. Shayne Sexton also mandated he report on his progress every 45 days. A warrant was issued for his arrest in April due to violating the terms of that probation.
(05/19/2015 - 5:00 PM)
Officials still investigating toddler's death
Officials are continuing to look into the death of toddler that Kenneth Bartley was living with in Virginia. On Mother's Day authorities went to the residence in the Northeastern Section of Vienna in response to a 911 call for a 3 year old male child had fallen and received a head injury. Upon the arrival of the officers, the child was being treated by members of the Fairfax County Fire and Rescue Department, according to a press release issued by the Vienna PD.
The boy was taken to the hospital and died two days later.
"The investigation is still on-going and there are no charges filed," said Vienna Police Spokesperson Dept. Gary Lose on Tuesday. "A case of this nature requires a thorough investigation."
Bartley had been living in the home with Erin Tepaske and her son, Beckett Podominick since February. TePaske is Bartley's former counselor.
In was in February that Bartley was allowed by the courts to move out of state. The conditions of Bartley's move included keeping his probation officer apprised of his physical address and abstaining from alcohol. Bartley was also outfitted with a device that would monitor if he consumed alcohol. Since that time, a warrant has been filed for Bartley allegedly not following those conditions. If he returns to Tennessee, he can be arrested on that warrant.
(05/19/2015 - 2:30 PM)
La Follette Police increase seat belt enforcement
"Click it or ticket" campaign runs through May
The La Follette Police Department is partnering with the Tennessee Governor's Highway Safety Office to step up seat belt enforcement from May 18 to 31, just ahead of one of the busiest travel weekends of the year.
"Every day, unbuckled motorists are losing their lives in motor vehicle crashes," said Chief James Jeffries.
As we approach Memorial Day weekend and the summer vacation season, we want to make sure people are doing the one thing that can save them in a crash—buckling up."
Tennessee reached its highest seat belt usage percentage last year at 87.71%. However, Tennessee is still considered a "low use" state on a national level. According to the Department of Safety and Homeland Security, over half of Tennessee's traffic fatalities in 2014 were not restrained at the time of the crash.
Each year, the University of Tennessee Center for Transportation Research performs an observational seat belt survey. The results of this survey indicate that male pickup truck occupants have the lowest rate of seat belt use statewide. This statistic holds true for both rural and urban areas.
Last month, Governor Haslam signed a bill that will increase Tennessee's seat belt fine beginning in January 2016. "The fine is more than doubling," said Tennessee Highway Patrol Colonel Tracy Trott. "The statistics speak for themselves—when we have more people buckling up, we have more people walking away from crashes. Start making the smart decision now before it costs you."
"Our law enforcement partners receive funding each year specifically to take part in this campaign," said Governor's Highway Safety Office Director Kendell Poole. "They will be looking for seat belt violators, and they will ticket you. If you think not wearing your seat belt doesn't impact anyone but you, you are wrong. Every citizen is impacted by medical and emergency expenses, lost productivity, increased insurance premiums, and property loss. This doesn't even begin to scratch the surface of the pain and suffering of your friends, family, and the law enforcement and emergency personnel working the crash."For more information on seat belt safety, visit www.tntrafficsafety.org.
(05/19/2015 - 6:00 AM)
FCCA offers proposal to take over animal shelter operations
Commission OKs two-week shutdown for cleaning
County commissioners voted Monday night to approve Mayor E. L. Morton's plan for dealing with problems at the county's embattled animal shelter, starting with a new director and a two-week shutdown of the shelter while crews conduct a thorough cleaning of the facility.
The cleaning operation is intended to rid the shelter of a continuing parvovirus epidemic. Morton told the commission that a thorough cleaning of the drains and a controlled burn of the ground surrounding the facility should eradicate the virus that has recurred at least eight times since last fall.
Morton said that a "scorched earth" approach is needed, including a final treatment with a new UVC light technology that will expose and eliminate any lingering signs of the stubborn viral contamination.
The commission also unanimously approved Morton's nomination of Mez Bruce as the new shelter director. She has already transferred from her position in the Mayor's office to working full time at the shelter. Bruce, Morton explained, is highly qualified with a Master's degree in animal science and training in veterinary technology.
The commission also received a proposal from the Friends of Campbell County Animals organization to assume operation of the shelter after the cleaning operation is completed and the new fiscal year begins in July.
Patricia Simpson with FCCA presented the group's business plan, which would call for transferring the $100,000 now allocated by the county for shelter operations to FCCA. That non-profit organization would then assume complete responsibility for operating the shelter, paying Bruce as the full-time shelter manager and paying four part time employees.
"Animal control would remain with the county under the Mayor's office," Simpson pointed out, "including the salary of the officer and maintenance of the vehicle."
Simpson added that FCCA's goal is to improve the quality of customer service with the public to increase the rate of pet adoptions, to work with a low cost clinic to make spay & neuter services more affordable for low income families and to impose a strict cleaning protocol for the shelter.
Sue Nance offered a motion to approve transfer of the shelter to FCCA but Finance Director Jeff Marlow suggested that the vote be delayed until next month while a careful review of FCCA's proposal is conducted.
"We need to look at the financial plan and be sure we're comparing apples to apples as far as cost before you give final approval," Marlow cautioned. Nance then withdrew her motion and added she will renew the motion at the June commission meeting.
The commission also gave tentative approval to a request from Morton to transfer $38,000 from the Mayor's office budget to a number of other projects. This money is surplus in the current fiscal year due to savings in insurance premiums that were initially budgeted, Morton explained.
"Because I am a military retiree, I did not use $17,000 that was allocated for my health insurance and we did not use everything that was budgeted for other insurance in my office," Morton explained, adding, "This is a one-time savings and I don't expect this surplus to continue after the current fiscal year."
Morton asked that $29,000 be transferred to cover the cost of patching pavement on Memorial Drive, another $4,000 to improve a county road in White Oak, $2,000 to anti-drug abuse programs and $3,000 to help cover the cleaning costs at the animal shelter. In response to questions, Morton explained that Memorial Drive is in a deteriorated condition and numerous potholes need to be patched.
"This road serves the county airport where ambulances are now bringing patients to the MedFlight helicopter pad. It also serves as access to one of the county's largest private employers, Thermidor. That company is looking at plans to expand and we need to do whatever we can to encourage their continued growth," Morton pointed out.
"If business leaders fly in here to look at moving their operations to Campbell County, that road is the first thing they will see. Unless it's improved, that's a bad start," Cliff Jennings commented.
Morton added that he would like to see the entire road re-paved but the money isn't available for anything more that the patching operation he proposed. The commission unanimously approved the use of the funds, pending a formal budget amendment that must be brought before the budget & finance committee for final approval.
Commissioners also asked about the progress on selling a number of tracts of property that have been in county ownership for several years through delinquent tax auctions.
Tax enforcement officer Charles Winfrey told the commission that all of the property has been located and "for sale" signs are presently being placed on all of those with public road access.
"I want to caution you not to expect a financial windfall from the sale of this property," Winfrey explained. "I've now been to every tract on the list and much of it has little value. There's a reason why nobody bid on these properties at previous delinquent tax auctions. Some are too small or too steep to be of much value while others have no public road access."
Winfrey added that in many cases, the most likely buyers would be adjacent landowners who might want to add to their property, preserve their privacy or clean up an overgrown lot next to their homes. (05/19/2015 - 6:00 AM)
La Follette getting outdoor activity areas ready
Any plans for an indoor swimming pool?
La Follette, along with help from federal grant dollars, is investing a few hundred thousand dollars in its youth. The new playground is well on its way to completion at Seargeant Park while the new skate park is coming right along in place of the tennis courts next to Liberty Park.
Planting a seed here. Has anyone given any thought to an indoor swimming pool in La Follette? Clinton has an indoor swimming pool. Guess where a third to half of the Clinton swim group lives? Yep. Campbell County.
(05/19/2015 - 6:00 AM - CHARLIE HUTSON PIX)
Farmers Market is baaaack
7:00 a.m. – 1:00 p.m. every Saturday
Farmer John says it's going very well. That's what he told WLAF Saturday afternoon just before rain sent everyone packing and scurrying from the Farmers Market at Freeman Park in downtown La Follette.
Megan Colley and Farmer John return for the second-year of the Farmers Market in downtown La Follette. The market opened Saturday and runs every Saturday through October from 7:00 AM – 1:00 PM
It was a dry market place until about 12:15 p.m. on the day the Farmers Market officially opened. Farmer John beamed when he spoke of old customers coming back around on this first Saturday, and says he was pleased with the addition of new vendors and well as new customer faces. The hours for the Saturday Farmers Market are from 7:00 a.m. until 1:00 p.m. and sometimes beyond 1:00 with the market scheduled to carry-on every Saturday through October. Farmer John points out that he will be open at Freeman Park on Fridays beginning in July.
(05/19/2015 - 6:00 AM - CHARLIE HUTSON PIX)
Branson indicted by grand jury
Grand jury convened Friday
By Susan Sharp
Alonzo Adam Branson is headed for criminal court. On Friday, the 60-year-old LaFollette man was indicted on multiple charges. They include eight counts of trafficking for commercial sex, two counts of attempting to solicit a minor by means of rape of a child, attempting to solicit sexual exploitation of a minor, possession of a schedule II controlled substance with intent to sell in a drug free school zone and possession of a gun in the commission of a dangerous felony.
While Branson is facing a laundry list of charges, the ones that could net him the most time is the trafficking charges. According to state law, trafficking for commercial sex is a class B felony. Depending on Branson's prior criminal history, if he is convicted or pleads guilty to these counts, he could be in jail for several years. Each count carries an eight to 30 year sentence, state law says.
Branson found himself in trouble with authorizes after he became the focus of a lengthy investigation into his alleged criminal activity with minors.
In April, was served with a search warrant by the Campbell County Sheriff's Office, CCSD SWAT Team, investigators from the LaFollette Police Department, along with officers from the District Attorney General's 8th Judicial Drug Task Force, according to a press release issued by the CCSD. Authorities had received information that Branson was attempting to trade sex for narcotics with children ages nine through 12, police said.
Branson is set to be arraigned in criminal court May 26.
(05/18/2015 - 6:00 AM)
O'Dell indicted in girlfriend's death
Remains in jail this morning
By Susan Sharp
Tommy O'Dell was indicted Friday in the death of his longtime girlfriend, Wanda O'Dell. After prosecutors presented their rendition of the events that transpired in the couple's Sharp Lane home in Oct. 2014, a grand jury indicted the 62-year-old man on charges of first degree murder, felony murder and aggravated assault.
Police reports indicate, the couple, who had been together over a decade, had been arguing when Tommy O'Dell shot his girlfriend. When authorities arrived at the Caryville residence, they found Wanda O'Dell had been fatally wounded in the head and chest.
Tommy O'Dell has insisted the shooting was accidental.
He is set to be arraigned in criminal court on May 26. In the meantime, he remains in the Campbell County Jail on a $1 million bond.
(05/18/2015 - 6:00 AM)
Terry's Pharmacy opens its new location today
Across from Charley's Pizza
Dr. Rissa Pryse officially unlocks the doors to the new Terry's Pharmacy location this morning at 9:00 a.m.
After a weekend of wall-to-wall moving and last minute prep, the Jacksboro store is finally moved from its longtime corner next to Eagle Market. The new spot is across from Charley's Pizza next to Smokey's Shell on the big four-lane highway.
Pryse tells WLAF that it's the same friendly faces and fast, accurate service, but it's just at a bigger, better locale.
The hours remain the same; Monday-Friday 9:00 a.m. to 7:00 p.m. Terry's original pharmacy is in La Follette at Traffic Light Number 9 on East Central Avenue.
(05/18/2015 - 6:00 AM)
Nidifer's contract is finalized
By Susan Sharp
With the signing of the contract, Larry Nidifer is officially the new director of Campbell County Schools.
"It is basically the same as Donnie (Poston's) contract," Campbell County Board of Education Chairman Mike Orick said. The major difference is the buyout clause. Poston's was $5,000, a sum that Orick deemed "totally ridiculous." Nidifer's is $50,000.
A buy-out clause would come into play if the board of education chose to terminate Nidfer's contract without cause. After serving him with a 10 day written notice, the board would have 30 days to pay him the $50,000, according to the contract.
Orick believes upping the ante from $5,000 to $50,000 gives the board reason to pause before making the decision to terminate Nidifer.
Nidifer's contract extends until June 30, 2018, which means he will be the DOS after the 2016 election. In each election, the school board sees half of its seats on the ballot. Orick hopes the $50,000 will "keep the politics out of it," he said referring to DOS serving at the will of the board and the possibility of getting new members next year.
Other terms of the contract include Nidifer's annual salary. Currently, it is set at $105,850. According to the contract, the BOE will have discretion over possible raises Nidifer could receive. The DOS's annual evaluations will occur no later than Feb. 15 of each year and could have a bearing on any potential pay increases.
When Nidifer receives his annual evaluation board members will be looking at some key items in order to judge his performance. Among those will be attendance and graduation rates. The expectation is that there will be increases in both areas, the contract says. And the BOE will also consider county wide test scores in order to gauge Nidifer's performance.
Should the board and Nidifer determine a parting of the ways is best, that is also covered in the contract. They can reach a mutual agreement, Nidifer could be terminated for cause, the state BOE could ask for his removal or the local BOE could remove him without cause. The latter is where the $50,000 pay out would happen.
While Nidifer is DOS, he will be expected to conduct five public forums a year, one in each district and reside within Campbell County, according to the contract.
(05/18/2015 - 6:00 AM)
Tobacco-Free Campbell County is kicking butts; cigarette butts
Working with school athletic departments
L-R La Follette Mayor Mike Stanfield, Loretta Phillips, and Tammy Hamby admire the artwork of CCHS and JHS students at Seargeant Park
You see them everywhere; cigarette butts. Hundreds of what's left after a cigarette is used up have been picked up at La Follette's Seargeant Park. It's part of the "Knock Tobacco out of the Parks" campaign that is spearheaded locally by Loretta Phillips and Tammy Hamby. Phillips is with the Campbell County Health Council while Hamby represents the Campbell County Health Department. Phillips tells WLAF that the program is made possible through tobacco settlement funds by way of a Tennessee state funded program.
Local coaches kicked-off the campaign, Knock Tobacco out of Parks, that directly works with the athletic departments at Campbell County Schools encouraging student athletes, coaches, and P-E teachers not to use tobacco products. L-R Coaches Dustin Buckner, Matt Price, Johnny Bruce, Mike Reynolds, and Matt Housley
Seargeant Park serves as a benchmark for the rest of La Follette and Campbell County parks. Phillips explains that after this first cigarette and tobacco pick-up, with help from county jail inmates, they'll go for two-weeks without picking up anymore butts and such. Then she and her team will come back in two-weeks, pick up again, and compare the counts from pick-up one to pick-up two. They will then erect signs around Seargeant Park encouraging visitors to help keep the park clean. Two weeks after the signs go up, they'll have another butt pick-up day, and then they will compare those numbers.
Phillips & volunteers picked up hundreds of cigarette butts in less than an hour
Students from Jellico and Campbell High Schools created several posters for the "knock tobacco out of the parks" campaign. The Health Council voted for one of the several outstanding posters that were created to be used in the parks. Deseree Harseson from CCHS created the winning sign. See all the artwork by clicking here.
Deseree Harseson's winnning creation
New details surface in Bartley matter
The investigation into the death of a 3- year-old Virginia boy is continuing. The child was allegedly injured at the home of his mother, Erin Tepaske.
Tepaske made local headlines several months ago when she stepped forward in support of Kenneth Bartley. Bartley became a notable local figure in 2005 when he shot and killed a high school principal. He later plead guilty in the shooting death of Campbell County High School Assistant Principal Ken Bruce. Bartley was also plead guilty to two counts of attempted murder when bullets from his gun struck another assistant principal and the principal. Following a new trial, he found not guilty of the later acts.
Earlier this year, Bartley moved to Vienna, Va, to TePaske's home. On Sunday, authorities in Vienna responded to a call of a child being severely injured. Authorities went to the residence in the Northeastern Section of Vienna in response to a 911 call for a 3 year old male child that had fallen and received a head injury. Upon the arrival of the officers, the child was being treated by members of the Fairfax County Fire and Rescue Department, according to a press release issued by the Vienna PD.
The child was taken to the hospital and died on Tuesday. An autopsy was later performed. The results are pending, Det. Gary Lose of the Vienna Police said. The Vienna Police consider this an open investigation.
Bartley had been living in the home with Tepaske and her son, Beckett Podominick. Since Sunday's incident details about Bartley's current legal standing has surfaced. Several weeks ago, a probation violation warrant was filed in Campbell County Criminal Court on Bartley for not keeping up his end of the deal that sent him to Virginia. The agreement that allowed him to leave the state included Bartley keeping his probation officer apprised of his physical address and abstaining from alcohol. Bartley was also outfitted with a device that would monitor if he consumed alcohol. The transdermal device combines alcohol testing with house arrest monitoring, according to the SCRAM website, a manufacturer of such devices. The mechanism is designed to test the offender every 30 minutes. It does not require the offender to parctipate in the testing procedure.
Alcohol had been a factor in all of Bartley's recent arrests.
However, Bartley has failed to report his address and there have been multiple violations on the alcohol monitor, according to court records.
Because this is a misdemeanor charge, there is not standing to extradite Bartley back to Campbell County, according to state law. If he were to return to Tennessee on his own, then judicial proceedings could begin. "We intend to arrest on that warrant and prosecute him," Eighth Judicial District Attorney Jared Effler said on Friday of Bartley's unknown return to the state. If Bartley were prosecuted and deemed guilty of the violation, the manner of service would be determined by the judge. In the end Bartley would be responsible for the balance of his sentence, according to Effler. (05/15/2015 - 5:00 PM)
A fun Big Josh Day at WLAF
WLAF's Charlie Hutson shares the evening through his photos
Some thought it was his birthday. Others wondered if he was retiring. Nope. It was just a day for us to celebrate the cornerstone of the radio station, Big Josh Etter. Your bright, good morning voice for the past 10-years has agreed to stay on for, at least, another 25-years. And that's good news for all of us.
Big Josh Etter with his main squeeze, Sandy, was all smiles Thursday night. Sandy, thanks for letting Josh come out to play at the radio station everyday.
Part of the WLAF crew was on hand Thursday night to celebrate Big Josh. From L – R, Theron Overbay, Derrick Lee Anderson, Bill Waddell, Ann Rutherford, Big Josh Etter, Harold Branam, and Jim Freeman
L-R Grandaughter Sandra and daughter Penny shared in the fun with Big Josh
L-R Son Josh, Big Josh, and Bob Fannon enjoy a laugh
Later this year, Big Josh turns 75-years old which means he'll have to hold on to the birthday card Dr. Cline and his wife Sarah brought him a few more months. Special thanks to all those of you who made it a really nice turnout for Big Josh's get-together Thursday evening at The Party Place. Carl and Mason T. Capps along with New Harvest topped the event with a couple of hours of great music. So. For now. The birthday celebration will have to wait until December.
(05/15/2015 - 6:00 AM)
Owls getting set for Best of Times IV
Mailing address for Class of 1969 reunion is posted
The "Best of Times IV" reunion of La Follette High School is coming! It's the weekend of June 4-7. Here's what we've been able to gather, so far, about what some of the classes are planning. (05/15/2015 - 4:30 PM)
Class of 1950
Classmates from the LHS Class of '54 plan to meet at Cove Lake on Friday, June 5, at 6:00 p.m.
Class of 1954
The LHS Class of '54 hosts a mini-reunion on June 6 at the La Follette Church of God located across from the Campbell County High School. A social hour to mix and mingle will be from 3:30 p.m. to 4:30 p.m. with dinner and program beginning at 4:30.
Class of 1956
The 1956 Class from La Follette High School is having a mini-reunion at the La Follette Country Club on Saturday, June 6, 2015, from 2:00 – 4:00 p.m. Contacts are Arizona Stooksbury Sowder and Barbara Overbey.
Class of 1957
Members of the La Follette High School Class of '57 meet at the tent provided at Seargeant Park. That'll be after the Saturday morning parade June 6.
Class of 1958
The LHS Class of 1958 meets at the Cove Lake Restaurant (Rickard Ridge BBQ), Saturday, June 6, at 1:00pm. If you plan to attend, please contact Linda Graham Morelock by May 15 at lindamorelock@yahoo.com, Facebook, or telephone 423-639-5836
Class of 1959
The LHS class of 1959 holds its mini reunion on Saturday, June 6, 2015, 1:30 p.m. to 4:40 p.m. at Mamma's Kitchen at 3537 General Carl W Stiner Highway, east of La Follette. The class has reserved a private room where you can order lunch, drinks, and snacks while sharing stories and memorabilia from the LHS days.
Class of 1960
The LHS Class of 1960 will hold its class reunion activities on Saturday, June 6, at the former La Follette Post Office located on South Tennessee Avenue. A "Happy OWL" reception is slated for 3:00 to 4:30 p.m. All LHS alumni and friends of the Class of 1960 are invited to stop by and visit during the reception. Following the reception, a catered class dinner will be held at the post office facility between 5:00 and 6:30 p.m. and requires class member reservations. The deadline for the class dinner reservations is May 25. Email: OWLS1960@aol.com or call 423.566.3641 to make reservations. The LHS Class of 1960 contact is Jo Anne McCloud Myers.
Class of 1961
Henry and Phoebe Carter extend an invitation to the Class of 1961 to gather at their Tennessee home during the La Follette High Best of Times IV on Saturday, June 6, at 2:00 p.m. That's at1135 Loop Road. You are encouraged to bring a chair and finger foods.
Class of 1962
The LHS Class of 1962 reunion is at Shanghai Marina on Saturday, June 6, 2015, at 2:00 pm
Class of 1963
Members of the La Follette High School Class of 1963 plan a mini-reunion Friday, June 5, at the Cove Lake Park Recreation building, also known as the pavilion. That's from 4:00 p.m. until 7:00 p.m. Contact persons are John Lovegrove and Peggy Hornsby.
Class of 1964
LHS Class of '64 hosts a mini-reunion on June 6 from 2:00 until 4:00 at the West La Follette Baptist Church Fellowship Hall.
Class of 1965
The LHS Class of 1965 meets at McClouds's Restaurant, Saturday, June 6, 2015, at 2:00 pm

Class of 1966
Members of the LHS Class of 1966 hosts a mini-reunion during the Best of Times Celebration on Saturday, June 6, 1:00 p.m. to 3:00 p.m. at the Campbell County Senior Center at the corner of East Central Avenue and South 8th Street (across from Walters Funeral Home).
Class of 1967
Ann Ford Cobb says there will be a mini reunion for the Class of '67 on Saturday, June 6, from 11:00 a.m. to 3:00 p.m. in the cafeteria at La Follette Middle School, the old high school. Lunch is from noon to1:00 with class photos at 1:30. Lunch consists of pizza, fruits, beverages, and cookies and will be provided. A collection will be taken to cover the cost of food and beverages. During the mini reunion, members of the LHS Class of 1967 we will make plans for the 50th reunion.
Class of 1968
The gathering place for members of the LHS Class of 1968 is Katie's Carry-Out on North Tennessee Avenue. That's Saturday, June 6, from 2:00 to 4:00.
Class of 1969
The Class of '69 members meet at the former high school and junior high location which is now the old bank building next to First Baptist Church in La Follette from 5:00 p.m. to 7:00 p.m. on Saturday, June 6. The meal is a catered meal at $15.00 per person. Please make your checks payable to the "Class of '69" and mail to Class of '69, P.O. Box 1776, La Follette 37766
Class of 1971
The Class of '71 meets from 1:30 to 3:30 at the downtown La Follette offices of Community Trust Bank.
News surrounding Kenneth Bartley surfaces out of Virginia
By Susan Sharp
Reports coming from Vienna, Va. Indicate that convicted school shooter, Kenneth Bartley, may have borne witness to a toddler's death.
On Thursday morning, Det. Gary Lose, of the Vienna Police Department, confirmed that on Sunday authorities responded to a call of a child being severely injured. He said the three -year -old male child later died but the "manner of death had yet to be determined." An autopsy was performed on Tuesday and the results are pending, Lose said. He would not confirm or deny Bartley's involvement, if any.
Bartley has been living in Virginia with his one-time counselor, Erin TePaske, for several months. After being granted a new trial in the 2005 Campbell County High School shooting, Bartley was convicted of a lesser charge, reckless homicide. In 2007, he plead guilty to one count of second degree murder and two counts of attempted second degree murder. Following the plea, Bartley was sentenced to over 40 years in jail.
But as a result of the new trial and subsequent verdict, Judge Jon Kerry Blackwood deemed that the young Bartley had served his time.
After being released from prison, Bartley attempted to live with first his father and then his mother. Neither situation worked. Each parent wound up having to call police when their son began drinking and became physically aggressive, police reports have indicated.
As an effort to resolve his legal problems and gain a fresh start, Bartley offered the court his option of moving to Virginia with TePaske. However, the stipulations to the move included Bartley was to undergo counseling, find a full-time job, and submit written progress reports every 45 days. Along with this, he is required to wear an ankle monitor that ensures that ensures he doesn't drink alcohol.
Lose said the Vienna Police Department considered this an open investigation. He said it could several days before the medical examiner reached a conclusion in the child's death.
(05/14/2015 - 1:30 PM)
May is National Foster Care Month
Learn how to become a therapeutic foster parent through Camelot
EAST TENNESSEE- A family. It is what every child needs and deserves. Unfortunately, it is also something some children never get. Each year thousands of children are placed in foster care because the family they were born into is unable to care for them.
In an effort to highlight this problem and acknowledge those who step forward to become the family where there once wasn't one, May has been named National Foster Care Month. It is a time to recognize the children afflicted by abuse and neglect, while also reaching out for more people to join the growing multitudes of foster parents.
It is also a time to focus on ways to create a bright future for the more than nearly 7,000 children and youth placed in foster care in Tennessee last year.
Child development experts agree that having a permanent home and family is key for a child to grow into a healthy and productive adult. When a child grows up in an environment with an adult who is committed to their long-term well-being and on whom they can depend, the child is simply in a better position to thrive.
Unfortunately, too many foster children lack this basic and stable environment to begin their lives and enter the foster care system because of parental abuse, neglect or abandonment. Removing a child from their home can be devastating and confusing for a child of any age, but the more a foster care child is moved within the system, the greater the chance that the child will lose contact with siblings, other family members, and other friends and adults who have been important in their lives—including neighbors, coaches and religious leaders.
That is where becoming a therapeutic foster parent through Camelot begins to make the difference. "We understand the challenges of children placed in foster care," said Susan Sharp, licensure and recruitment administrator for Camelot said. "The material presented to our foster parents in training is designed to help lessen some of these traumas. Until a child can return home we want there to be as few moves as possible."
Children enter foster care after being placed in state's custody. Last year, this happened 6,954 times in Tennessee. That resulted in 8,180 children being in the legal care of an entity other than their parents or a family member.
"We appreciate the difficulties foster children face," said Sharp. "And one of those is being removed from their home. By placing a newly removed child with a trained therapeutic foster parent, they are being placed in good hands."
Once a placement is made Camelot Foster Parents are provided in home support that is tailored around the needs of the child and the home. This support is designed to assist in decreasing the distress foster children experience.
Classes begin soon and are free. For more information about Camelot and Camelot Foster Parenting call Susan Sharp at 423-566-2451 or email at ssharp@camelotcare.com.
(05/01/2015 - 3:30 PM)
Warriors celebrate winning season and Coach King
Christian Academy hosts annual basketball banquet
By Susan Sharp
There was an air of festivity last Thursday night as the Christian Academy of Campbell County Warriors celebrated a winning season. There was recognition for a hard fought season that ended with a county championship. There were comments about how each player had developed in distinct ways over the season but, among all of the glory and accolades there was also something- someone missing. Coach Vic King had led the Warriors to a county championship in 2013. This served to steel his determination for a repeat in the 2014 season. "When Coach King first asked me to help him coach this team, he said we were winning the county championship this year," said Dusty Paul, the one-time assistant and now head coach for the Warriors. "I told him okay. I was just honored to be sitting with him on the bench." Paul played for King in middle school.
Two basketballs were signed by the Warriors. The basketballs will be given to King's family while the plaques will hang in the CACC gym.
And while the young team would oblige with a repeat they did it in memory of King instead of with him. The longtime basketball coach was in his second year coaching the Warriors when health problems arose. He fought hard but just before Thanksgiving King died. It was a blow the team struggled with.
The 2014-15 Warriors display their banner proclaiming them County Champs.
Yet, with the help of Paul and a desire to make King proud, the Warriors pulled off a victory in the final game of the county tournament beating Wynn Elementary School. Adding to the triumph, several of the players walked away with tournament honors.
Kevin Corner thanks Ollie Medley on behalf of the King family for a plaque that memorializes King.
Thursday night allowed the boys to enjoy their win while paying tribute to the coach who believed in them when they didn't believe in themselves. Trophies and tributes were showered on the team who suffered a loss that most adults would struggle with. "I lost my coach my junior year," said Starla Berry, Lady Warriors head coach. "I know how hard that can be to come back from. But these young men did it and pulled off a great season."
"Coach King was a legend around here and we were lucky to have him," said Ollie Medley, CACC administrator. As she addressed the players who had gathered in the gym for Thursday's banquet, Medley held in her hand a stack of notes the Warriors had written for the King family. Each one detailed what King had meant to his team. Medley said the notes would be delivered to King's wife, Shelly, and daughter, Katie Cave. Along with this the women will each be given a basketball signed by all of the players.
Medley also unveiled a plaque memorializing King that will hang in the CACC gym. Kevin Corner, who played on King's first team in 1977 was on hand to represent King's family. "I can see why he loved this place," Corner said surveying the audience. "He was all about class and this school obviously has that. He loved you boys." Sharing memories of when he played for King, Corner said "Our team was the alpha and you boys, you are the omega. You are the end of an era."
(04/20/2015 - 6:00 AM)
Coach King's Corner
Coach Vic King left us in November 2014. In honor and memory of him, we've created a "Coach King's Corner." Click Coach's picture to access Coach King's Corner. (03/23/2015)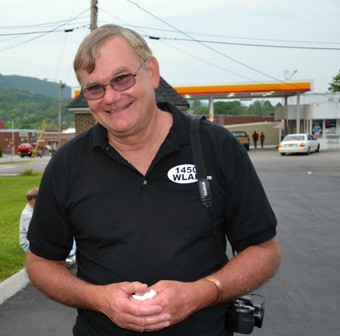 This picture of Coach was snapped by Charlie Hutson on Friday, May 17, 2013, in front of the former Regions Bank (where La Follette Junior High/High School once stood). It was where the 60th anniversary of WLAF was celebrated.