See what these La Follette Elementary School students accomplished further down this page.
This evening's Board of Education Budget Workshop meeting is postponed. BEP numbers for the month of May will not be available for a couple of days. So, the meeting is rescheduled for Tuesday, May 29, 6:00 pm in the lower level conference room of the Central Office at Jacksboro. The purpose of the meeting is to review and discuss the May BEP funding data. (WLAF NEWS PUBLISHED – 05/22/2018-9AM)

Eighth graders learn about post-secondary opportunities
Lots of folks invested time into the future of Campbell County 8th graders last week. Hundreds of students visited the Tennessee College of Applied Technology (TCAT) at Jacksboro and Roane State Community College in La Follette and heard from officials with District Attorney General Jared Effler's office.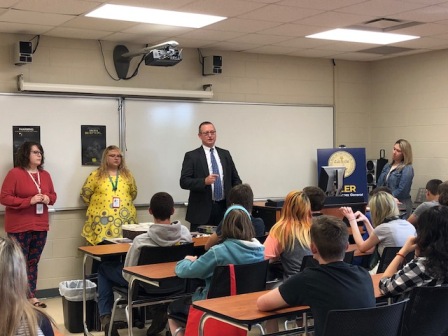 Assistant DA Tom Barclay and his staff speak to 8th graders
La Follette and Jacksboro Middle Schoolers took the tours last Tuesday while 8th graders from Elk Valley, Jellico, White Oak, and Wynn toured on Wednesday. LMS School Counselor Linda Prim says, "It was a really good day, and the students asked great questions."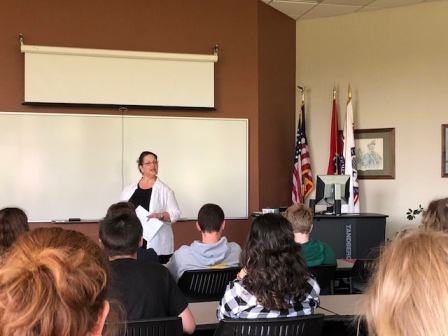 Ann LeJeune speaks to students at Roane State
Post-secondary opportunities was the theme of the day. Topics covered ranged from dual credit and middle college to criminal justice and law enforcement to the various programs offered by TCAT and RSCC.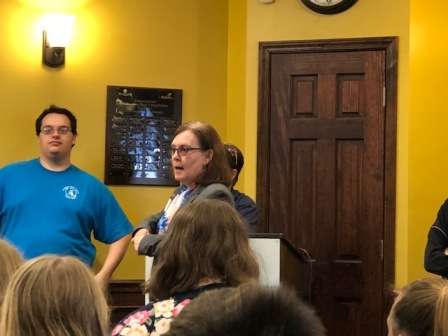 TCAT President Debbie Petree talks with students at the TCAT campus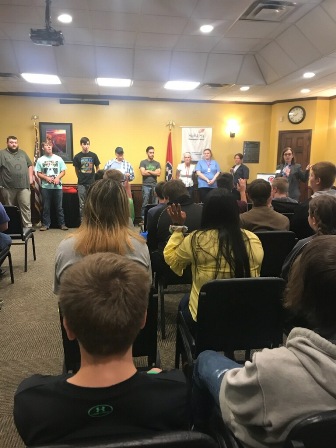 LMS students listen to TCAT students tell about the programs they are taking.
Tom Barclay, assisted district attorney general, presented a program to the 8th graders on criminal justice and law enforcement. Roane State representative Ann LeJeune discussed all of the programs available to students at Roane State as well as the opportunity for dual credit and middle college. Students were given a tour of the LaFollette campus of RSCC during their visit. TCAT Director Debbie Petree welcomed 8th graders to TCAT and also discussed dual credit opportunities offered by the technology school. Current TCAT students talked with students about various programs including: pharmacy technician, welding technology, industrial electricity, power sports technology, administrative office technology, practical nursing, machine tool technology, cosmetology, and computer information technology. (WLAF NEWS PUBLISHED – 05/22/2018-6AM)

Since 1967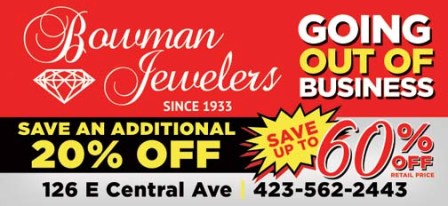 The carnival is in town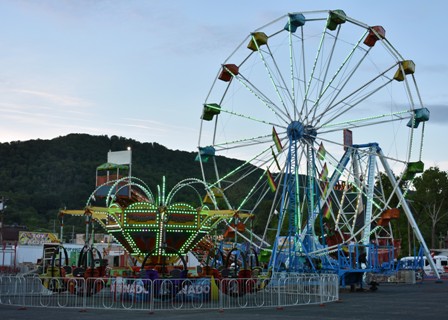 The carnival opens today at 5 pm. It's located behind City Hall in La Follette. WLAF's Charlie Hutson shares this photo from Monday evening. (WLAF NEWS PUBLISHED – 05/22/2018-6AM)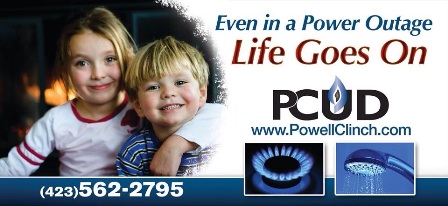 Commission, CHET back away from proposed drug program
The Campbell County Commission managed to skirt around most of the controversial topics that were brought before them at last week's workshop and conducted mostly routine business at Monday night's meeting, along with handing out accolades to local businesses and groups.
Pyro Shows was the latest business to be honored by resolution for their contributions to Campbell County. Owner Lansdon Hill and other company officials and family were present for the ceremony.
Also honored was the welding class at Campbell County High School, which has managed to save taxpayers thousands of dollars by repairing metal garbage containers for the Department of Sanitation avoiding the need to replace worn containers.
A fifth grade student, named Isaac, from Caryville Elementary School addressed the commissioners about his drive to address bullying in county schools, explaining he wants to raise funds for anti-bullying T-shirts and start discussions among students, parents and educators. Mayor E. L. Morton added that one of the movie nights at Lonas Young Park will be dedicated as "Stop Bullying Night."
A representative of Community Health of East Tennessee was allowed to address the commission and informed them that after discussions with Judge Shayne Sexton, "CHET is no longer interested in participating" in a proposed partnership between CHET and the county to hire a psychiatric nurse to address the county's opioid problem.
Mayor Morton had previously suggested using $45,000 from the county's sale of delinquent tax property to match $45,000 from CHET to fund a program to address the drug addiction epidemic. Pushback from some commissioners and others resulted a budget amendment failing for lack of a motion at last week's Finance Committee session.
Instead, commissioners were told, CHET will participate with the drug court to plan a program to address the problem. Campbell County ranks "third in the nation" in the extent of the county's drug addiction problem.
Joe Coker reported on his inquiries with CTAS about the feasibility of a county commission resolution barring officials and county employees from campaigning in county offices while on duty after Scott Stanfield brought up the subject at the workshop.
Coker told the commission that his discussions with CTAS and state officials revealed that the "Little Hatch Act" pertains only to state employees and school employees, while there are no state laws that would restrict elected county officials or their employees from handing out campaign literature.
Ralph Davis brought up the topic of penalizing non-profit groups such as volunteer fire departments that receive county donations but fail to file timely reports to the commission. Davis wanted to make his motion retroactive so that any groups that had failed to file reports at the first of the year would be penalized beginning January 1.
Marie Ayers and others hesitated at that suggestion and Davis finally agreed to amend his motion to become effective July 1. His motion passed 10-4.
Lonnie Weldon reported that the Animal Control Committee met earlier in the day with personnel from Holston Gas at the animal shelter to discuss concerns voiced by shelter director Patricia Simpson about a gas leak.
"As of right now, there is no leak at the animal shelter," Weldon reported. (WLAF NEWS PUBLISHED – 05/22/2018-6AM)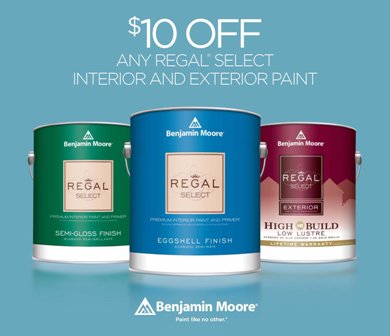 At
Lindsay
Carpet & Paint
Center
, May 19th through the 28th, receive $10.00 off any Regal® Select Interior or Regal Select Exterior products! Just in time to start checking off those projects from your to-do list. (5 gallon limit per person)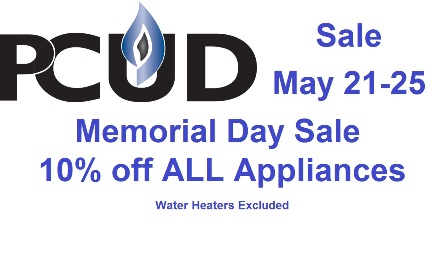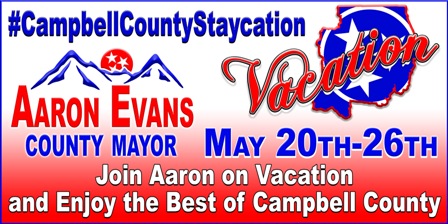 Haslam signs Yager sponsored legislation into law
Major legislation sponsored by Senator Ken Yager (R-Kingston) to fight Tennessee's opioid epidemic was signed into law today by Governor Bill Haslam. Senate Bill 2258 is part of Governor Bill Haslam's TN Together initiative – a three-pronged plan to combat the opioid epidemic. It addresses the law enforcement and treatment components of the plan to curb abuse, while Senate Bill 2257 addresses the prevention component.
Each day in Tennessee, at least three people die from an opioid-related overdose, which is more than the number of daily traffic fatalities in the state.
"This legislation is a huge step forward in our fight to roll back Tennessee's opioid epidemic," said Sen. Yager, who has worked diligently to address drug abuse during his legislative tenure, including passage of a key measure cracking down on 'pill mills' in the state. "Every family in Tennessee has been affected in some way by drug abuse, whether it is a friend, co-worker, family member or loved one. This legislation gives law enforcement the tools they need to attack the problem, while providing more resources for treatment. I am honored to sponsor this bill for the Governor."
The law enforcement aspect of the bill updates the classification of drugs and allows law enforcement to better track, monitor and penalize the use and unlawful distribution of dangerous and addictive drugs such as fentanyl – a drug up to 100 times more potent than morphine and linked to an alarming number of overdose deaths. It also requires that the director of the Tennessee Bureau of Investigation (TBI) now consult with the commissioner of Mental Health and Substance Abuse Services, the commissioner of Health, and the Board of Pharmacy to annually revise and republish the scheduling of dangerous drugs. Previously, the TBI was not consulted in this process.
"Fentanyl is a very serious drug that is often mixed with other drugs, leading to the death of users often unaware of its potency," added Yager. "This legislation will allow law enforcement to crack down on the use and distribution of fentanyl, which will ultimately help eliminate this deadly drug from the streets."
The treatment aspect of the bill provides incentives for offenders in correctional facilities to complete intensive substance use treatment programs while incarcerated. An increasing number of offenders suffer from substance use disorders. These evidence-based programs are proven to reduce recidivism and improve lives while saving taxpayer dollars.
"Many of the people coming to prison have drug addictions, and if we can't fix that problem and we let them back on the street with a drug problem, we're likely to see them again," remarked Yager.
"Through this multifaceted approach, Tennessee can be successful in its continued fight against the opioid epidemic and reverse the addiction, overdose and illicit distribution trends that continue to plague the state and nation," Yager concluded. (WLAF NEWS PUBLISHED – 05/22/2018-6AM)
Aaron Evans announces 7 Day Campbell County "Staycation" Vacation
Evans says as county mayor he will practice what he preaches
"Take a vacation with us in Campbell County, Tennessee. It's our home and it's one of the most beautiful places in the country with some of the finest people that have ever lived. We have all you need here for a family vacation. Join us! Mountains, lakes, resorts, sights, history... You name it and we have it right here in Campbell County, Tennessee." said Evans after announcing his Campbell County Vacation Initiative.
"If we want to encourage more revenue and promote tourism to its highest level, let's start by vacationing here at home with our local businesses and owners. The Chamber of Commerce and Tourism office here does an excellent job at promoting Campbell County." Tourism generates about $57 million dollars annually for Campbell County. "As county mayor I want to make sure they know at the chamber I'll work with them and have their back when it comes to tourism. I'll get out of the way and support them fully.
For business owners; I'll stand with them and continually aid in the promotion of their livelihood. I'll practice what I preach as their county mayor," Evans continued. Starting May 20th- 26th Evans said he will visit some of Campbell County's hottest tourism spots, local businesses and special sights because he said, "Campbell County deserves leadership that serves it's community all the time and business owners need to know their county's ambassador has their back and wants to see them prosper."
Aaron Evans invites you to do the same and share Campbell County's greatest features with your family and friends starting right here at home.
Paid for by Evans for Campbell County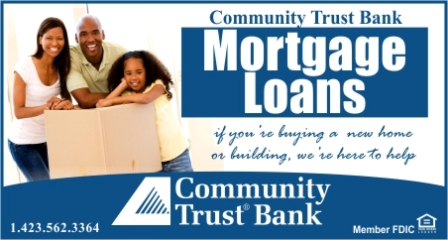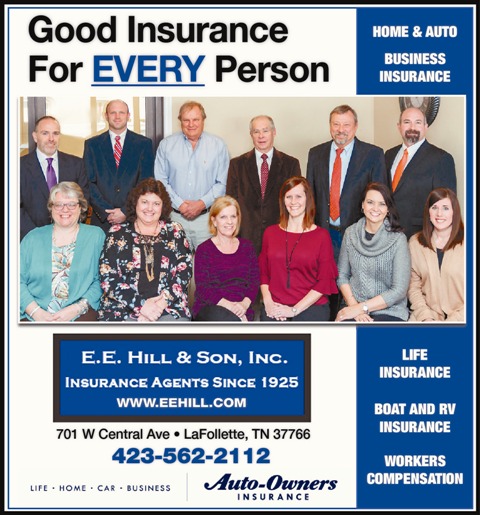 Tennova Healthcare Asks: Are You Under Pressure?

If you feel like you're doing OK with a borderline high blood pressure of 130/80 or so, it's time to pay close attention. The American Heart Association and American College of Cardiology have jointly published stricter high blood pressure guidelines. What was once was considered "prehypertension" has been officially upgraded to Stage 1 high blood pressure.

May is Blood Pressure Awareness Month, and Tennova Healthcare is using the occasion to help the community better understand the new guidelines. The health system is also sharing five tips for keeping your blood pressure in check.

High blood pressure, also called hypertension, is an all-too-common condition. According to recent estimates, an alarming 76.4 million Americans over the age of 20—one in every three adults—have high blood pressure. Perhaps more concerning is that only about half of those living with the disease have it under control.

"Blood pressure measures the rate at which blood pushes against your blood vessel walls," said Syed M. Ahmed, M.D., an internal medicine physician with Tennova Primary Care – Broadway. "Hypertension is a condition in which blood flows through the blood vessels at higher than normal pressures. Untreated, high blood pressure can eventually lead to greater health issues, such as a heart attack or stroke."

According to Dr. Ahmed, no one knows exactly what causes most cases of high blood pressure. It can't be cured, but it can be managed. High blood pressure usually has no signs or symptoms until the disease reaches its most advanced stages. That's why blood pressure screening should be part of every adult's annual health exam.

Your blood pressure reading consists of two numbers. The first is called systolic pressure. It measures (in mmHG or millimeters of mercury) the force of the blood against the artery walls as your heart beats. The second number is called diastolic pressure. It reflects the force of the blood against the artery walls between heart beats. For example, a reading of 120/80 mmHG means systolic pressure is 120 and diastolic pressure is 80.

Blood pressure categories in the new guideline are:

<![if !supportLists]>· <![endif]>Normal blood pressure: less than 120 mmHg systolic; less than 80 mmHg diastolic

<![if !supportLists]>· <![endif]>Elevated blood pressure: 120 to 129 mmHg systolic; less than 80 mmHg diastolic

<![if !supportLists]>· <![endif]>Stage 1 high blood pressure: 130 to 139 mmHg systolic; 80 to 89 mmHg diastolic

<![if !supportLists]>· <![endif]>Stage 2 high blood pressure: 140 mmHg or above systolic; 90 mmHg or above diastolic

"Because it's very common for a patient to have hypertension and not even know it, the importance of annual screenings can't be overstated." Dr. Ahmed said. "If your doctor finds your blood pressure to be high on a single visit, he or she will likely ask you to come back for additional checks at various times of the day, or you might be sent home with a monitor to evaluate your pressure around the clock. These are valuable methods of ensuring the diagnosis is accurate, before discussing necessary lifestyle changes or prescribing medication."

While most people are aware of the danger that high blood pressure poses as a path to heart disease, there are other long-term risks associated with uncontrolled hypertension. Kidney disease, stroke, eye disease and atherosclerosis are all potentially life-threatening conditions directly related to hypertension.

The good news is that most cases of high blood pressure are highly responsive to lifestyle changes. The most important tools for controlling hypertension are:

<![if !supportLists]>1. <![endif]>Losing weight. If your body mass index (BMI) is above 25, your risk of hypertension increases significantly.

<![if !supportLists]>2. <![endif]>Quitting smoking. Smoking is one of the most prevalent independent causes of high blood pressure. It also dramatically decreases your chances of survival if you experience a related health episode.

<![if !supportLists]>3. <![endif]>Eating a healthy diet. A diet rich in fruits, vegetables, fiber and lean proteins, as well as one low in salt and saturated fats, will help reduce your risk of high blood pressure.

<![if !supportLists]>4. <![endif]>Being more physically active. Aim for at least 150 minutes (2 hours and 30 minutes) of moderate-intensity, or 75 minutes (1 hour and 15 minutes) of vigorous-intensity, aerobic exercise each week.

<![if !supportLists]>5. <![endif]>Limiting alcohol. Consume no more than one drink per day for women or two drinks per day for men.

In addition to lifestyle modifications, earlier treatment with anti-hypertensive drugs may be advised for some people, due to the stricter guidelines released by the American Heart Association and American College of Surgeons.

If you are concerned about the status of your blood pressure, make an appointment with your primary care physician to get it checked. For more information or to find a doctor, call 1-855-TENNOVA (836-6682) or visit Tennova.com. (WLAF NEWS PUBLISHED – 05/22/2018-6AM)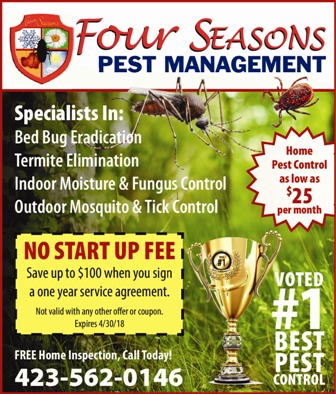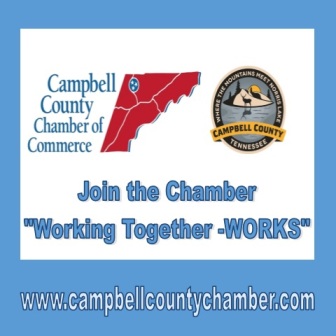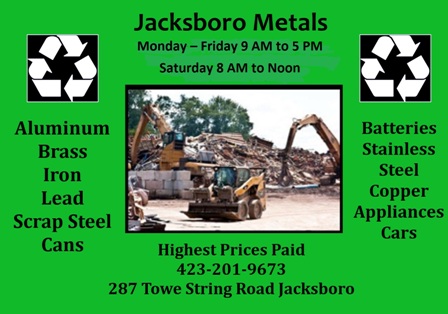 Second LEAD class graduates
Sheriff Robbie K. Goins congratulated and graduated 100 students yesterday from LaFollette Elementary School in its 2nd LEAD class graduation. LEAD is the new school student anti-drug education initiative spearheaded by Sheriff Goins and his SRO staff. Goins said in a statement "We have to get these kids attention when they are young, before they go down the wrong road. We will and must do our part in shaping their minds." (WLAF NEWS PUBLISHED – 05/22/2018-6AM)
Big rig jam in downtown La Follette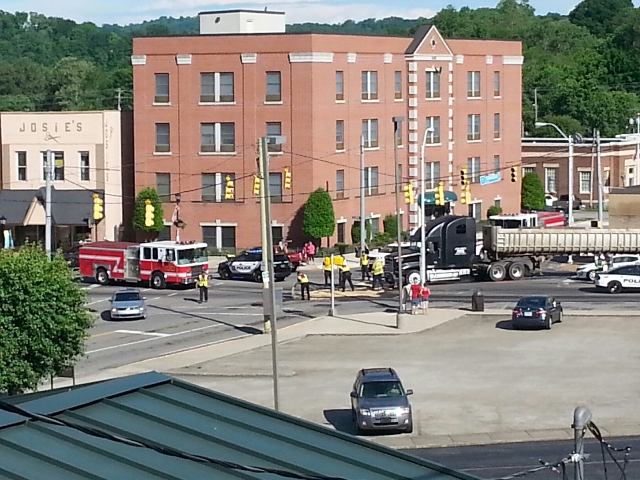 Reports coming in to WLAF are that when an 18-wheeler dump truck hit the back of a pick-up truck, around 5:30 pm Monday, under the Central-Tennessee stop light, it shutdown all four lanes of going-home-time traffic. The big rig ended up turned sideways blocking the Speedwell-bound lanes and turn lane with a sedan by the truck bed near the turn lane. Fluid leaked from the trucks forcing La Follette Fire Department Firefighters to thrown down an absorbing agent. East bound traffic is peeling off West Central over to Beech Street or through the Peoples Bank parking lot while Jacksboro-bound travelers are heading up North Tennessee Avenue and also through the bank parking lot. It was reported that the person, a young woman, in the pick-up is suffering from back and neck pain and was taken to the La Follette Medical Center E-R. (WLAF NEWS PUBLISHED – 05/21/2018-5:50PM)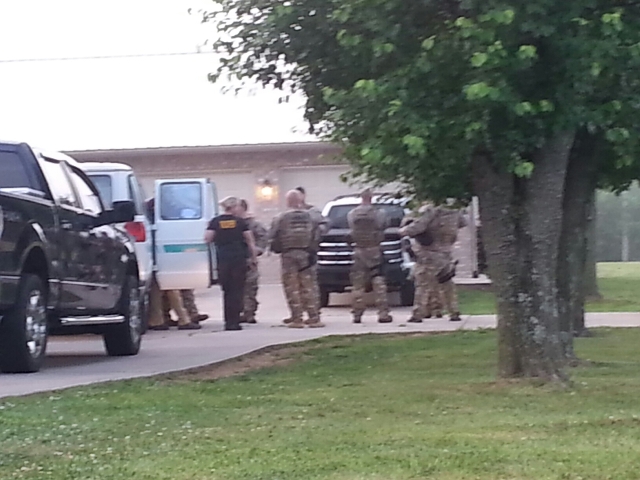 CCSD, DTF, THP, & DEA conduct predawn raid - details are further down this page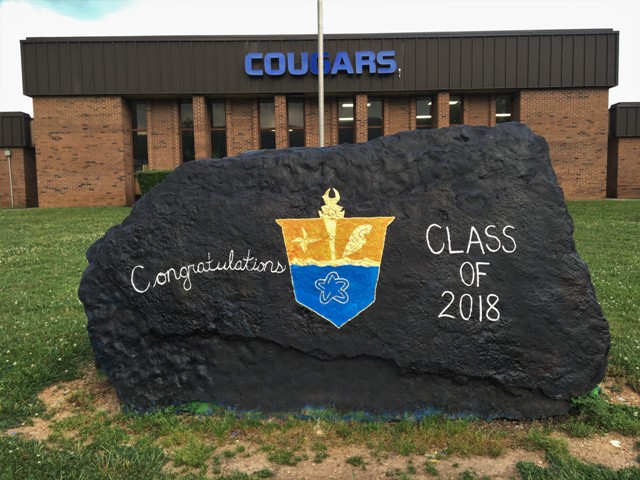 Graduation for Campbell County's Class of 2018 is Saturday at Tex Turner Arena on the campus of LMU at Harrogate. Ceremonies begin at 10 am and will be televised live on WLAF-TV 12 and 1450wlaf.com. (PHOTO COURTESY OF WLAF'S CHARLIE HUTSON)
Predawn drug raid at Valley View home
CCSD, DTF, THP, & DEA respond
A Monday morning drug raid took place in the predawn hours at a home in the Valley View Community. Drug Task Force Director Josh Goins tells WLAF News, "We've had a lot of complaints about all the activity at the home of Hattie Jones at 282 Clawson Road."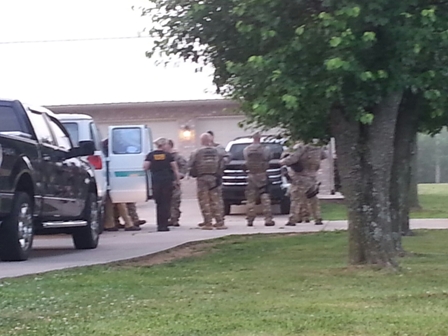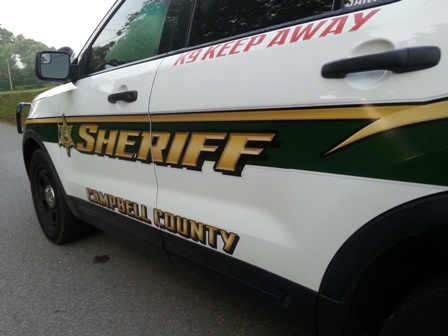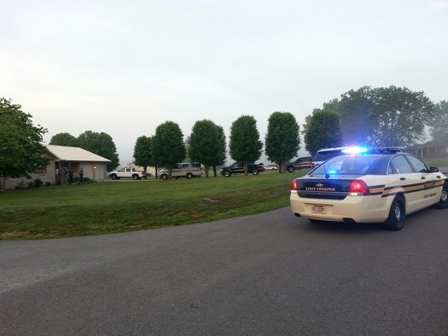 Goins and the Drug Task Force along with officers from the Campbell County Sheriff's Department, the Tennessee Highway Patrol, and the Drug Enforcement Agency left out at 4 am this morning to carry out the raid. Goins adds that there will likely be indictments resulting from the raid. (WLAF NEWS PUBLISHED – 05/21/2018-7:30AM)
Longtime member of LPD Force Woodward passes
'Dean will be missed' – La Follette Chief of Police Bill Roehl
Lieutenant Dean Woodward was a staple with the La Follette Police Department for nearly three decades. The former LPD Assistant Chief of Police died suddenly on Saturday.
Whether on foot, in a police cruiser or on a motorcycle, Woodward served for 28-years wearing blue. La Follette Chief of Police Bill Roehl tells WLAF, "He (Woodward) dedicated his life to the service of others. He worked for LPD in many capacities, including as a Motor Officer and retired in 2003 as the Assistant Chief of Police."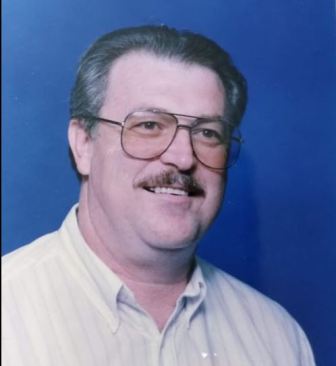 Dean Woodward was a U.S. Navy veteran
Woodward was a veteran of the Vietnam War and Past Master of Jellico Masonic Lodge #527 F.&A.M. Roehl adds, "Certainly, I members of the La Follette Police Department and the other city departments and employees will keep Dean's widow Vickie; as well as, his entire family in our thoughts and prayers."
CLICK HERE for funeral arrangements.
Dean "Deano" Woodward was 69-years old. (WLAF NEWS PUBLISHED – 05/21/2018-6AM)
Changes are coming to WLAF this week
Part of 65th anniversary celebration
You will notice some changes to 1450wlaf.com along the way this week. As part of the transition, the WLAF website may not be available or updated for a brief time. Your patience is appreciated.
Changes, we hope, will be subtle yet noticeable making 1450wlaf.com easier to navigate as well as offering a few more features. When Frank Payne first helped us create the site, he hammered home that we need to keep it simple, and Frank's philosophy lives on with the new look.
Tabs are at the top of the page. Right below the tabs is the WLAF – Hammrtech Hot Line where you will see breaking news and other pertinent information. For WLAF corporate partners, your banner and box ads will appear at the top and bottom of the front page and down the right side of the page; all in rotating fashion and your ads will now appear on other WLAF links rather than just on the front page.
One of the new additions is the "School News" link that will keep you up-to-date on all the good things happening in Campbell County Schools. Another new feature allows you to search the site for stories. Rather than have full stories all the way down the front page, stories will be collapsed allowing you to see almost every story without a lot of extra effort.
The new site would not be possible without Steve, Andrew, Tim, and others at Hammrtech. Steve Ditmer is president, and Andrew Ditmer is CTO. Tim Bigelow is the man that led the way for the new WLAF site and is just about ready to show you the latest Hammrtech creation. Thank you, Hammrtech!
The company that specializes in high-tech solutions is based right here in Campbell County. Hammrtech helps you meet your customers' needs in the constantly changing landscape of the 21st century. (WLAF NEWS PUBLISHED – 05/21/2018-6AM)
Zoning! You knew I would have an opinion!
ronnie weighs-in on zoning
ronnie sharp (as he prefers his name spelled) says, "Zoning! You knew I would have an opinion!" Zoning was a topic at a recent meeting, and sharp shares his thoughts HERE. Enjoy! (WLAF NEWS PUBLISHED – 05/21/2018-6AM)
Campbell County youths win at horse show
Shyla Huckaby, a 17-year-old junior at Campbell County High School, and nine-year old Eden Reece, a third grader at Caryville Elementary School, participated at Bays Mountain Saddle Club on April 14.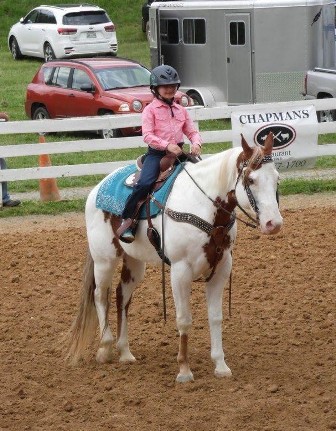 Eden Reece sits atop "Burnin' Down the Barn."
Reece competed with her horse Burnin' Down the Barn. She earned two first place, two second place, a third place and two fourth place awards in the western division. Reece competed in the open western pleasure against all ages including adults, she was the youngest rider to compete in the show.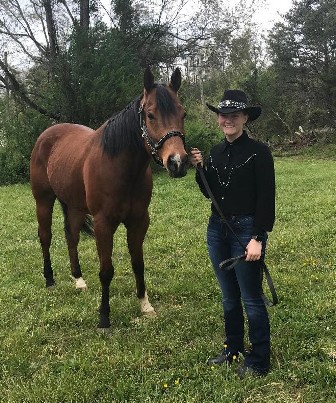 Shyla Huckaby is with her horse Secretly Enlightened
Huckaby competed with her horse Secretly Enlightened. She earned two first place, two second place and one third place award in the western division. She has been riding horses for 10 years and competing for eight years.(WLAF NEWS PUBLISHED – 05/21/2018-6AM)

La Follette Middle School hosts volleyball camp
Starts next week
La Follette Middle School Volleyball Camp starts Tuesday, May 29, and runs through June 1. For details, call LMS at 423.562.8448. Camp cost is $25.
Tryouts are Friday, June 1, 2:30 pm. (WLAF NEWS PUBLISHED – 05/21/2018-6AM)
WLAF continues 2018 Election Coverage
Gray Insurance "Meet the Candidates"
As part of WLAF's 2018 Election coverage, we offered the candidates for county commission and school board an opportunity to complete a questionnaire.
Candidates were asked not to submit handwritten responses. WLAF asked the candidates to return typed responses by May 11. They were instructed to keep their responses to 200 words per question and they were told WLAF would not edit their responses, the answers would appear exactly as submitted.
The majority of questionnaires were published last week. The two that appear today were submitted late, because the candidates called WLAF last week to tell us that the questionnaires mailed to them did not make it to them.
Please meet County Commission candidate LYNN LETNER from District 3 and District 1 School Board candidate JEFFREY MILLER.
Here are the rest of the candidates that sent in questionnaire responses:
Meet District 1 school board candidates WALLACE GOINS and MARVIN RUTHERFORD. In District 2, meet school board candidates MARK HONAKER, JOSH JAMES, and SHARON RIDENOUR.
Meet third district school board candidates FAYE HEATHERLY and TRAVIS THOMPSON and from the fourth district CLINT BANE along with LAUREN WRIGHT in the fifth district.
Meet District 1 county commission candidates DAVID ADKINS, KEITH GOINS, WHIT GOINS, and ZACHARY MARLOW.
Meet District 2 county commission candidates SCOTT "SCOTTY" KITTS, LISA STANFIELD LESTER, and JAY MUNCY. From District 3, WLAF introduces you to DEWAYNE BAIRD, STAN FOUST, RUSTY ORICK, DANNY SHECKLES, and SCOTT STANFIELD.
Meet District 4 county commission candidate JOSH PARKER and from District 5 county commission candidate STEVE RUTHERFORD.
CLICK HERE to see the WLAF – Gray Insurance "Meet the Candidates" forum that was held at West La Follette School on April 26, 2018. Candidates for county mayor, sheriff, register of deeds, and court clerk are featured. Twenty-one of the 22 candidates for these offices appeared. (WLAF NEWS PUBLISHED – 05/21/2018-6AM)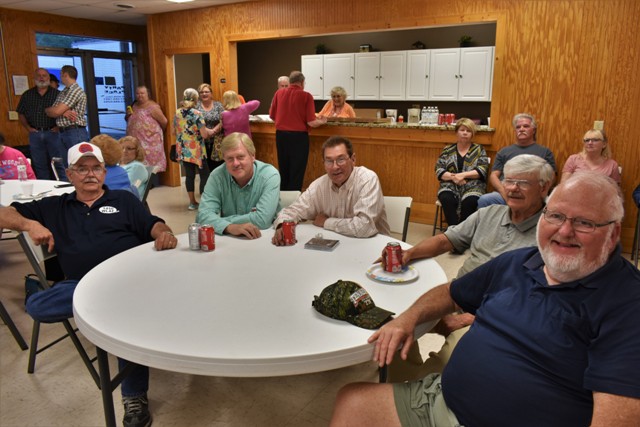 It was a good time had by all at WLAF's 65th anniversary celebration on Thursday night at The Party Place in east La Follette. More Charlie Hutson photos and Derrick Lee Anderson's story are further down this page.
LaFollette agrees to settle litigation
A purchase by the city of LaFollette that drew scrutiny was addressed yesterday in a special called session.
The council discussed Resolution 2018-12, which is an amendment to the 2017-18 budget. The amendment provided funding for the purchase of property at 313 N. Tennessee Ave, across from LUB. The property was purchased to assist the police department in moving forward with several goals they have set. The property will provide indoor storage of impounded vehicles and provide additional storage for the department.
Councilwoman Ann Thompson abstained from voting saying she agreed with the purchase, but proper procedures to purchase the building weren't followed. The way in which the building was purchased is what turned the eye to the city. The purchase wasn't discussed in a meeting. Instead, Mayor Mike Stanfield sent Thompson to make the owners a direct offer.
The council also adjourned in executive session with its Tennessee Municipal League (TML) appointed counsel to discuss the pending litigation of Arnold "Arnie" Meredith v. the City of LaFollette. After the executive session, the council reconvened. Councilmen Bill Archer made a motion the city give the TML attorney the authority to settle the case. Archer said this was in the best interest of the city, so it didn't incur any further cost. (WLAF NEWS PUBLISHED – 05/18/2018-6AM)
Pieces of 2018 Cougars falling into place
CCHS hosts Sevier on Thursday
By Pat Pebley
Spring practice is often the time to answer questions about what a team will look like in the fall. The Cougars have more than their share of questions for the 2018 season. Gone are the powerhouses of the offense as the Zach Rutherford to Shawn Marcum connection are both graduating. The McGuyver of the team, Elijah Phillips, is gone as well. Who will replace them?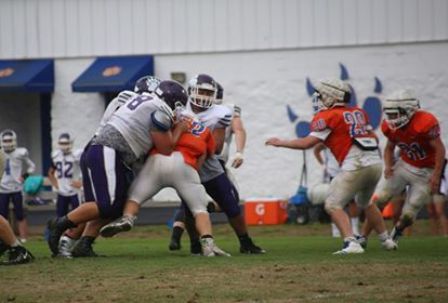 On Thursday, the Sevier County Smokey Bears rolled up The Hill and took to Pat Kerr Field to battle the Cougars and hopefully answer some of these questions. Though it is too early to truly say that any questions were answered it looks like the pieces are already falling into place.
Landon Addington looked good throwing the ball and seems to be poised to be the offensive signal caller. Preston Bowman, who actually had a good year at wide receiver last season, looks as if he is ready to step into the role of top ball catcher. Drew Jordan had a touchdown reception from Addington as well. Eric Hopper is also looking strong on defense. Brennon Byrge had a fumble recovery that likely would have gone for a touchdown in a game situation but the play was blown dead. Riley Wallace is on pace to have a record breaking season at kicker.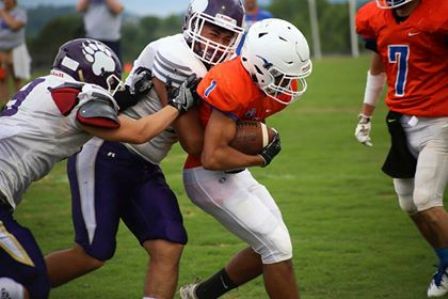 The Cougars were missing a couple of important pieces during the scrimmage. Javan McCulley injured his knee early in spring practice but will hopefully be back by the time the season starts. Jordan Tolliver was also out for the scrimmage.
As many may not realize, the Cougar junior varsity program has been reloading the team as the seniors graduate. This year seems to be more of the same. Joseph Paul came in to relieve Addington at quarterback and had a rushing touchdown. Cahron Williams had a great run after a screen pass and broke several tackles on the way to the end zone.
There is also an impressive group of freshman that we have not seen coming
from the middle schools.
Though there are several questions waiting for answers it looks like the
answers will be positive ones. (WLAF NEWS PUBLISHED – 05/18/2018-6AM)
WLAF celebrates its 65th anniversary
Charlie Hutson shares his photos HERE
WATCH the entire event
By: Derrick Lee Anderson, WLAF DJ
When Jim Freeman asked me to write the about WLAF's 65th anniversary celebration, it is an opportunity I did not want to pass up. As I share this story with all of you, I want to thank all of you for listening to WLAF each day for the best in local radio.
As a WLAF DJ, being on the air each Monday and Friday is one of the many joys in life. From the first day I was ever on air to today, being a WLAF on-air personality is a blessing from God. On Thursday, WLAF radio celebrated its 65th anniversary. Later that evening, WLAF radio celebrated its 65th anniversary with a special celebration at the Party Place in LaFollette.
It was a great turnout as many people from Zach Walden to Margaret Ayers to Lynn Letner came to celebrate WLAF's 65th anniversary. It was an honor to see members of the WLAF radio family being represented as Jim Freeman, Big Josh, myself and other members of the WLAF radio family were there. Even Peggy Watson, a former member of the WLAF radio family, was there at this event. And, my girlfriend Candace got to be with me for this special night.
For WLAF's 65th anniversary, this event featured all local artists playing the best in bluegrass and gospel music. Mason T. and Carl Capps, New River Rising, and New Harvest were entertaining and inspiring the audience with great bluegrass and gospel music. The music took everyone back to when WLAF featured this music back in 1953, the year WLAF signed on the air. There was something special I saw at the end of the broadcast. Dormas Miller, one of the event attendees, sang Squire Parsons' "Sweet Beulah Land", one of my favorite gospel songs of all time. It was the highlight of this event.
All in all, it was a special night where Campbell County came together to celebrate WLAF's 65th anniversary. It was a night I'll never forget and one I will always cherish. (WLAF NEWS PUBLISHED – 05/18/2018-6AM)
Aaron Evans announces 7 Day Campbell County "Staycation" Vacation
Evans says as county mayor he will practice what he preaches
"Take a vacation with us in Campbell County, Tennessee. It's our home and it's one of the most beautiful places in the country with some of the finest people that have ever lived. We have all you need here for a family vacation. Join us! Mountains, lakes, resorts, sights, history... You name it and we have it right here in Campbell County, Tennessee." said Evans after announcing his Campbell County Vacation Initiative.
"If we want to encourage more revenue and promote tourism to its highest level, let's start by vacationing here at home with our local businesses and owners. The Chamber of Commerce and Tourism office here does an excellent job at promoting Campbell County." Tourism generates about $57 million dollars annually for Campbell County. "As county mayor I want to make sure they know at the chamber I'll work with them and have their back when it comes to tourism. I'll get out of the way and support them fully.
For business owners; I'll stand with them and continually aid in the promotion of their livelihood. I'll practice what I preach as their county mayor," Evans continued. Starting May 20th- 26th Evans said he will visit some of Campbell County's hottest tourism spots, local businesses and special sights because he said, "Campbell County deserves leadership that serves it's community all the time and business owners need to know their county's ambassador has their back and wants to see them prosper."
Aaron Evans invites you to do the same and share Campbell County's greatest features with your family and friends starting right here at home.
Paid for by Evans for Campbell County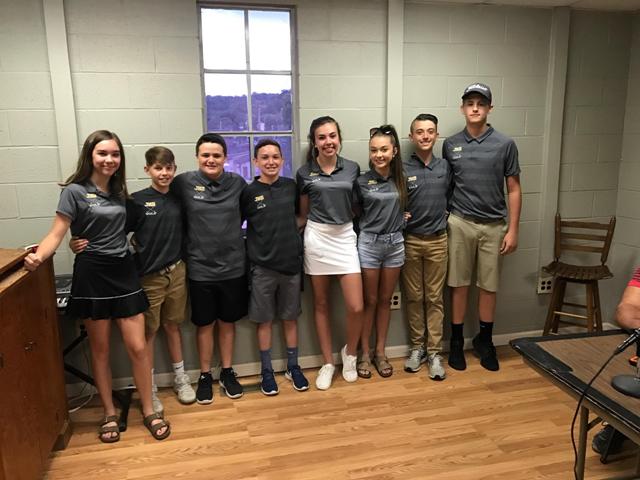 The state champs visited WLAF on Wednesday night. Les Martin and Brent Allen (neither pictured) hosted the Jacksboro Middle School Golden Eagles last night on Just Sports on WLAF-TV 12. The Jacksboro Eagles and a few members of the Lady Eagles golf team were celebrated on the air for their great seasons. L-R Bailey McKamey, David Bates, Blake Roberts, Dominic Zupancic, Sadie Cox, Molly Fields, Garrett Medley, and Jack Leach. The Eagles golf team won the state title on Monday. (PHOTO COURTESY OF BECKY COX)
CCHS baseball and basketball tryouts are set
At the end of the month
Campbell County High Baseball Coach Chris Mayes and CCHS Basketball Coach Darrell Cox are holding tryouts for their respective sports at the end of May.
Mayes hosts tryouts on Thursday, May 31, at noon, on campus. Prospective baseball players must bring bats, gloves, and shoes and a cap.
On the same day, May 31, Cox welcomes boys who are interested in playing basketball. Tryout time is 4 pm to 8 pm at Brown Gym. (WLAF NEWS PUBLISHED – 05/17/2018-6AM)
CC Middle School anglers take title
Won over the weekend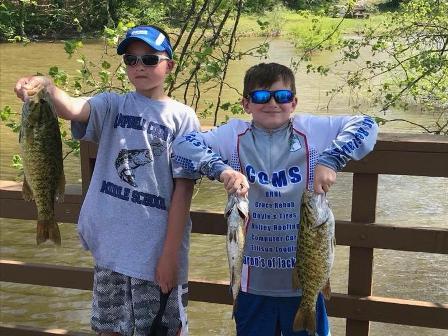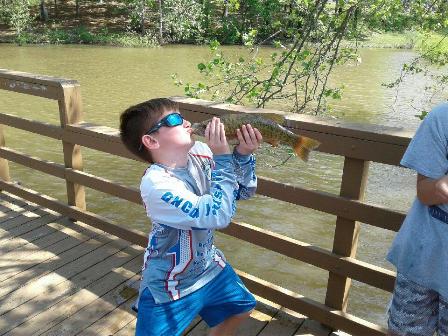 The Campbell County Middle School Fishing Team Members Mac Fritts and Reid Chapman won the "Next Generation Juniors Championship" tournament. The young fishermen took the title on the South Holston River on Saturday. (WLAF NEWS PUBLISHED – 05/17/2018-6AM-PHOTOS COURTESY OF MIKE KING)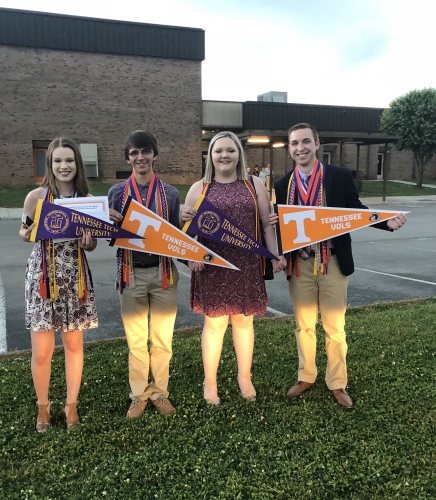 College bound CCHS Seniors show off their future alma maters school pennants. L-R Trinity King, Elijah Brock, McKenzie Ayers, and Noah Smith. More photos and a list of all of the Senior Night Awards honorees are further down this page.
LMS track and field shines at Hardin Valley
Caldwell does it again
By Greg Vincent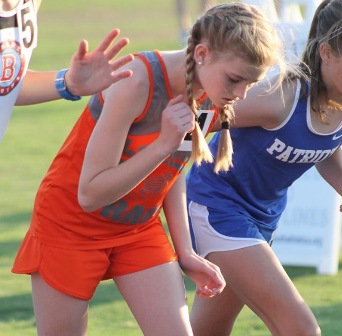 Macy Caldwell (orange jersey) readies to run
In Thursday night's East Tennessee Middle School Elite Championship held at Hardin Valley Academy, Macy Caldwell broke her own record again in the 1600 meter run. Macy paced herself behind her top competitor until the back stretch where her will to win took over. She crossed the finish line a full two seconds ahead of her competitor. Macy's record breaking time was 5:21. Just minutes later, Caldwell hit the track again to compete in the 800 meter run. Again, she was the first to cross the finish line. Macy has been dedicated to running for many years and has had many mentors there to encourage and assist with her success, including her dad, Wesley Caldwell. It has been my honor to also coach and work with this exceptional young lady and great athlete. She has a work ethic that exceeds no other and always gives 110%. Macy's allegiance to her team can also be seen in her efforts in the 4x400 meter relay. She has developed a strong relationship with team members Madison Johnson, Bailey Gillum and Hayllynn Willis who placed 7th at this meet in the 4x400.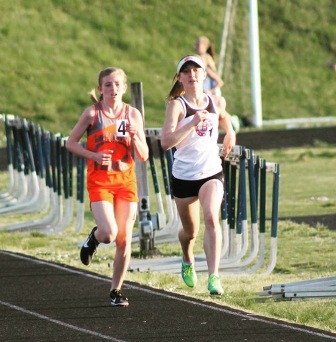 Caldwell (L) broke free from her closest competitor to finish first
Hayllynn Willis finished 2nd in the high jump and is ranked 5th in the state going into the TMSAA final meet of the season. She has been a consistent performer this year and will have another year of middle school to continue to elevate her performances.
Erica Brock is another top performer who has consistently been in the top three all year, primarily first or second at each meet. She, too, has broken the school record and then broke her own record this year. I am sure she will have great success at the state meet and we expect great things from her as she enters the high school ranks next year.
Bailey Gillum is another member of the record breaking 4x400 meter relay team who qualified for state in the 400 meter dash. She competed on the state level last year in the open 400 and has really grown stronger during the latter part of the season.
We have 6 athletes who will be participating on the state level this weekend at Austin Peay University, including Josh Phillips who qualified in the 400 meter dash. I feel very good about our teams' accomplishments this year and I truly believe that our athletes will continue to make La Follette Middle School proud as we compete on the state level. (WLAF NEWS PUBLISHED – 05/16/2018-6AM-PHOTOS COURTESY OF JENNIFER CALDWELL)
Sheets celebrates five years in Campbell County
Hosts Chamber of Commerce ribbon cutting
"It was a decision I made that I don't regret in any way" is what Zach Sheets has to say about his move to Campbell County in 2013. Sheets is the local Edward Jones Financial Advisor who celebrates his 5th year in Campbell County.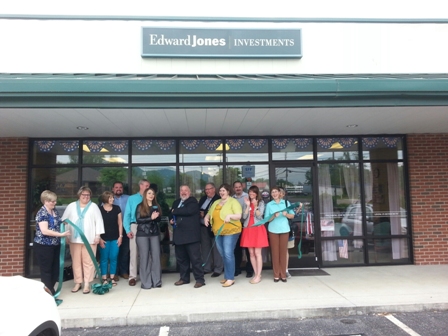 A Campbell County Chamber of Commerce ribbon cutting celebrated Sheets 5th year in east La Follette.
Sheets calls it a great experience to become so active in the community and to get to know so many wonderful people. His office is located on North Massachusetts Avenue in the center just over the hill from the hospital in La Follette, and he can be reached at 423.566.4010. (WLAF NEWS PUBLISHED – 05/16/2018-6AM)
"Dream of Fields" is now available
Goerss has book signing
Thirty-three years and 450 homes later, residents of Deerfield Resort look back. Betty Goerss and her husband Art were the first to buy land at the area's premier neighborhood on Norris Lake, and perhaps it's only fitting that Betty wrote a book about the many Deerfield stories. Goerss work along with illustrations by fellow Deerfield resident Joe Bonomo and the stories from those of Deerfield simply make the book.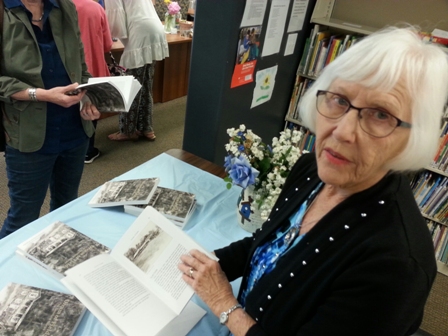 Goerss recently greeted visitors and signed her new book at the La Follette Library.
"Dream of Fields – Our Deerfield Stories" is available at the Greens of Deerfield, the Deerfield Real Estate Office or by calling 423.563.0808. The books are $25 each. (WLAF NEWS PUBLISHED – 05/16/2018-6AM)
CCHS has fifty-three 4.0 students
Senior Awards Night was last night
It was a night to applaud academic accomplishments for Campbell County Seniors last night. The crowd of onlookers filled every seat in the CCHS Auditorium, stood along the walls, and spilled out into the lobby.
The night featured academic all-stars from CCHS that featured 53 students with 4.0 grade point averages. Five Eagle Scouts are also part of the Class of '18. CLICK HERE to see all of the honorees. CLICK HERE for photos.
Graduation is Saturday, May 26, 10 am, at Tex Turner Arena on the LMU campus at Harrogate. There will be live televised coverage over WLAF-TV 12 and 1450wlaf.com. (WLAF NEWS PUBLISHED – 05/16/2018-6AM)
Jacksboro wins the state golf championship
Cox takes fourth at state individually
What a day for JMS Golf! Indeed a memorable day. The Jacksboro Middle School Eagles are the best in the state and proved it in front of everybody on Monday at Maryville. The Eagles are the state champions as a team.
Individually, Lady Eagle Sadie Cox claimed fourth in the state for her outstanding efforts yesterday on the same golf course where the Eagles took the state crown, Green Meadow Country Club. (WLAF NEWS PUBLISHED – 05/15/2018-6AM)
Bad roads, zoning, meal program among CC workshop headaches
County commissioners found themselves on the hot seat more than once at Monday night's workshop, as a courtroom full of citizens brought up one problem after another. Commissioners listened, responded in most cases, but offered few solutions.
One group of residents from the Norris Lake area were back before the commission with a suggestion that set off some quick political sidestepping – the idea of countywide zoning.
These residents came before commissioners previously with concerns about a commercial campground that is being planned near their lakeside community, but were told the county has no control over such matters. The group was back this month to push for a zoning ordinance, but found little enthusiasm for the idea from elected officials.
"This has been brought up three times in the past twelve years and the result is always the same – people pack the courthouse to protest the idea of the county telling them what they can do with their own property," Rusty Orick pointed out.
Cliff Jennings observed that while Mayor of LaFollette, his experience was that zoning works. Later, commissioners briefly discussed whether to add the zoning topic to the agenda for next Monday's meeting. There was little enthusiasm for the idea, although Jennings quipped, "I'll make the motion since I'll be gone," referring to his intention to not run for re-election.
Trulene Baird spoke for another group of residents, once again bringing up the need for paving on Stinking Creek Road. Baird pointed out that the road, particularly the upper half, is in dangerous condition with some areas of the road "literally sliding off."
"There has been no blacktop on the upper half of that road since 1971," Baird continued. "The county needs to allocate enough money to Mr. Dilbeck so he can do something in the next year."
Commissioners responded with a combination of excuses and vague promises. Ralph Davis said that the county is working with state officials to try to obtain help on the road as an emergency evacuation route, adding, "It will take $2 million to do that job right."
Marie Ayers rattled off the amounts that the county has provided to the Highway Department each year and pointed out, "We've allocated $2.27 million over the past five years, but we can't designate the money for any certain road."
"They will pave roads where the votes are," Cliff Jennings added, obviously referring to the Road Superintendent.
"If our votes don't count, our taxes shouldn't either," Baird shot back. She added that the community continues to hold the Mountain Heritage Festival every year despite the deteriorating road. She also pointed out that the ATV campground on Stinking Creek pays thousands of dollars in hotel-motel taxes. Mayor E. L. Morton added, "That campground is the county's largest hotel/motel taxpayer."
The thorny subject of the county's animal shelter was next on the commission's plate, with Patricia Simpson again bringing up the issue of the gas heat and suspected leaks in the lines.
"We have the gas shut off for now through the summer, but something is going to have to be done before cold weather returns next winter," Simpson said.
The problem is that so far, neither Holston Gas nor county workers have been able to pinpoint the source of a leak. Simpson insisted that the shelter can't afford the kind of gas bills that came in this winter and the gas usage can only be attributable to a leak in the lines.
"We paid $8,000 for all of 2017, but were billed $5,000 for nine weeks in 2018. That is unsustainable," Simpson concluded.
Next the commission was confronted with the financial challenges facing the Campbell County Senior Center's Meals on Wheels program. The Center failed to receive their annual grant from the LaFollette Medical Foundation due to mistakes that were made by not filing 1099 forms for part-time employees.
That error was due to bad advice from the Center's former accountant and has been corrected, but an upcoming decision by the Foundation will determine whether the program can continue.
"We deliver meals to homebound elderly residents who can't drive themselves due to their physical condition or other factors. We're delivering to 41-45 people and some can pay a little bit, some cannot. It depends on their financial situation," the program director pointed out.
She added that after the problems were first publicized, the center received $3,500 in donations for March, but contributions fell to $1,200 in April. "Our cost for providing the meals in those two months was $11,000. If we don't receive the grant, we can't continue the program," she concluded.
When the commission finally got around to setting the agenda for next week's regular meeting, few of the problems they had heard aired over the previous two hours were included.
Scott Stanfield brought up the topic of county employees and officials passing out cards and campaigning while on duty. Stanfield suggested that the county should take some action to forbid campaigning in the courthouse but County Attorney Joe Coker explained that he has already obtained rulings from the state from previous elections.
"The county cannot forbid campaigning by officials. You're getting into first amendment issues of free speech, as well as the independence of most elected officials to run their own offices," Coker pointed out. (WLAF NEWS PUBLISHED – 05/15/2018-6AM)
Caryville meets in its regular monthly meeting
Board hires library assistant
In last month's monthly meeting of the Caryville Board of Mayor and Aldermen they agreed to accept applications for a library assistant to fill in while the current library assistant is on maternity leave. Monday night, the board agreed to hire Laura Ayers to fill the temporary position. Ayers has a degree in Literature and will be allowed to work up to 32 hours weekly at a rate of $10 an hour.
Mayor Bobby Stooksbury updated the board about the sale of property in the Collins Industrial Park, he said there is an offer with Mr. Larger to purchase the property for $80,000 with the option of an additional 10-acre purchase, the board agreed to the purchase.
The board agreed to transfer funds for the purchase of a police vehicle. The funds will be transferred from overtime in the amount of $30,000 and temporary salaries in the amount of $6,000. Discussion of the bids for the police vehicle were tabled until the June meeting due to the ending date of bidding being on May 18.
The board held a first reading of Ordinance 2018-05 that adds a new permitted use schedule section to the zoning ordinance. A first reading of Ordinance 2018-06 annual operating budget for the fiscal year beginning July 1, 2018, and ending June 30, 2019, was completed. The new budget included a salary for a full-time fireman for the city, a fifty-cent raise for employees, paving projects for the city and funds for a new patrol car for the police department.
The board held a second reading of Ordinance 2018-04 that will amend the 2017-18 budget. The general fund's original budget for operating supplies was $2,200 and will be increased $3,500 for a total of $5,700. Fire protection and control was increased by $62,000; this amount will pay for items needed to be added to the fire truck.
Stooksbury discussed the city hall lighting project, he outlined that the worst areas of the property will be addressed this month and the remaining areas will be addressed next month. The board agreed to a low bid of $6,910 from Lonnie Welden to complete the work. In other lighting matters, Stooksbury said he had been contacted by Comfort Inn at the 141-exit of I-75 requesting lighting on Comfort Lane. The city will look at the placement of the lighting and then contact LaFollette Utilities for installation of the lights.
Previously, the board had discussed Pilot's request to build a crosswalk from their old location, which is currently parking to their new location across the street. Pilot, at I-75 Exit 141, would like to enter into an agreement with the city for this project. After some discussion, City Attorney Kathy Parrott advised the board that she was not comfortable some of the language of the agreement and requested to make changes to it before they approved it.
In the night's final business Aldermen Lloyd Lawson discussed the board approving the members of The Board of Codes and Ordinances Appeals. Those members are Janet Wormsley, Helen Allen, Vickie Heatherly (alternate) and Virginia Blackwell. (WLAF NEWS PUBLISHED – 05/15/2018-6AM)
Cougar basketball tryouts May 31
Coach Darrell Cox hosts tryouts
Cougar basketball tryouts are scheduled for Thursday, May 31, at John Brown Gym. Newly hired Campbell Coach Darrell Cox is looking for boys who are interested in playing basketball next season. Tryout hours are 4 pm to 8 pm. (WLAF NEWS PUBLISHED – 05/15/2018-6AM)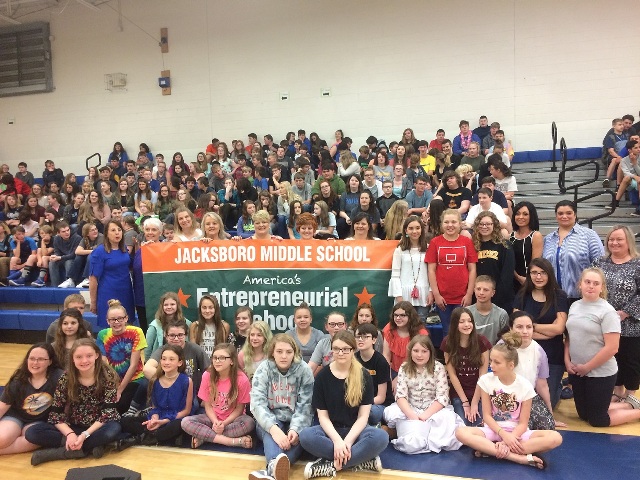 The banner awarding Jacksboro Middle School as the state's first entrepreneurial school was presented on Friday. It will now hang in the school. Susan Sharp's story is further down this page.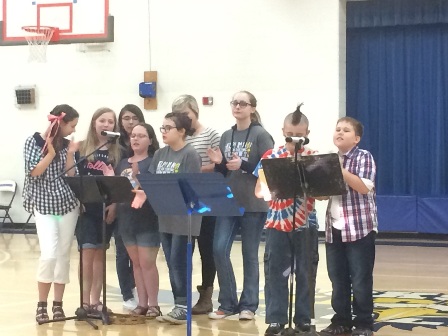 The Jacksboro Middle School Show Choir performed a melody of hits on Friday morning. The theme of the show was "Music from the 50 States."
JMS earns distinction as state's first entrepreneurial school
Jacksboro Middle School is the first school in the state of Tennessee to receive the distinction of "America's Entrepreneurial School."
On Friday, the banner was presented to the school during a morning assembly.
"This is a huge recognition," Gretchen Thomas, interim Jacksboro Middle School principal told the students during the assembly.
Campbell County Director of Schools Jennifer Fields, who was also the principal at JMS until she assumed her new role a few weeks ago, encouraged her former students telling them they "had made history" by receiving this distinction.
To qualify for this honor, six educators dubbed 'the Tennessee Six" by their colleagues traveled to Charleston, WV, to be trained to implement programs geared to promote Entrepreneurship Skills across the curriculum. After the training, these teachers brought the program home and started working on a plan to introduce students to the idea of entrepreneurship. A student advisory board was formed, the first lessons were taught and the opportunity to be business owners became a reality at JMS's annual STEM Night.
The program, designed by EntreEd (the National Consortium for Entrepreneurship Education) encompasses many skills needed for our future workforce including soft skills, budgeting and marketing. EntreEd partners with local Community Colleges to help fund and provide guidance and mentoring for educators and students alike. They are also receiving funding for a sustainable project planned for the school year 2018-2019 with the money being provided by Southeast Community College. (WLAF NEWS PUBLISHED – 05/14/2018-6AM)
Greystone: A Blessed Place
By: Derrick Lee Anderson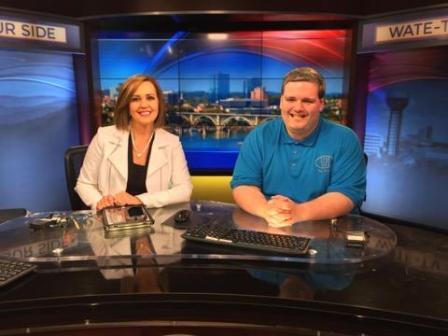 WATE-TV 6 news anchor Lori Tuckers welcomed WLAF's Derrick Lee Anderson to Greystone on Friday
Sam Brown, Margie Ison, Jim Wogan, Calvin Sneed, Bob Gray, Matt Hinkin and
Lori Tucker.
What do these people have in common? They have anchored news, weather and
sports from the WATE studios over the years. The WATE studios are located
in North Knoxville on the Greystone Mansion, and was built in 1890 for
Union officer Major Eldad Cicero Camp who was also a lawyer and
entrepreneur. In the 1960s, Greystone became the home of WATE 6 On Your
Side.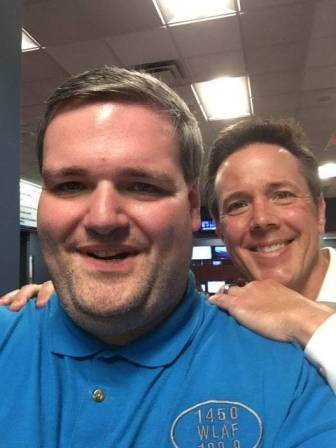 For a long time, I have always wanted to visit the Greystone Mansion,
because of not only the historical aspect of it, but also the fact that
it's the home of WATE 6 On Your Side, the first TV station in East
Tennessee. Then on Friday, Jim Freeman and I made a special visit to the
Greystone Mansion. It was so special, because it was my first time visiting
this place. When we got there, I got to see one of WATE's station vehicles
along with the Bananagans food truck. How amazing is that!
A few moments after coming into the building, my friend and WATE news
anchor Lori Tucker took Jim and me on the tour of the building which
featured everything from historical pictures of Greystone to the station's
newsroom. During a tour of the newsroom, I got to meet great people like
Gabriella Pagan, Bo Williams, Kristin Farley and Ryan O'Donnell in person
for the first time. It was so special, because these people are the best.
My favorite part of this tour was the news set. The news set features
everything from a story teller to the news desk. Before Lori and Bo did a
Facebook Live video for today, I got to sit in the news desk to have my
picture taken with Lori. For me, it was a special moment where I got to sit
in a news desk for the first time in my life. It was on that day's Facebook
Live video that I got to be with Lori and Bo for the entire time. I even
gave a shout-out to my girlfriend Candace. What a lot of fun! While at the
news set, I got to meet some more people including reporter Jennifer Webb
and meteorologist Ken Weathers.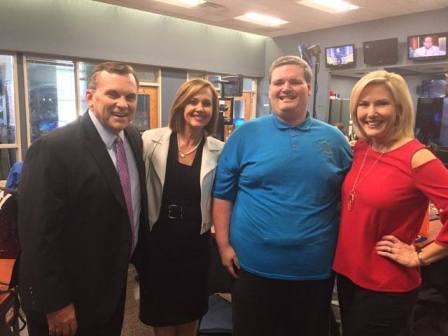 After the Facebook Live video came to an end for the day, we went to a
viewing room to watch the station's 4pm newscast live. In one section of
the viewing room, there were two televisions. The top one is what you would
see if you was watching WATE on cable or satellite. The bottom one is what
you don't see on the air. From the viewing room, you get a nice view of
WATE's news set while a newscast is going on.
After the 4pm newscast comes to an end, Ryan O'Donnell and Kristin Farley
take over, and anchor the station's 5pm and 5:30pm news. Bo Williams, the
4pm news anchor, does a traffic segment during the 5pm news.
As we ended this tour, I wanted to get one more picture of Lori as she was
waving goodbye to Jim and I. What a great way to end this special day!
When you go to the Greystone Mansion for a tour, you are going there
blessed. When you leave the Greystone Mansion, you are leaving there
blessed. That's why Deuteronomy 28:6 in the King James Bible says, "Blessed
shalt thou be when thou comest in, and blessed shalt thou be when thou
goest out."

After visiting the Greystone Mansion this past Friday, I came back home to
LaFollette feeling blessed. I even cried tears of joy at times throughout
the weekend. So, my question is this: Am I looking forward to visiting
Greystone again someday? My answer is yes. But for right now, I can look
back and say that I visited the Greystone Mansion, an important piece of
East Tennessee history and a blessed place. (WLAF NEWS PUBLISHED – 05/14/2018-6AM)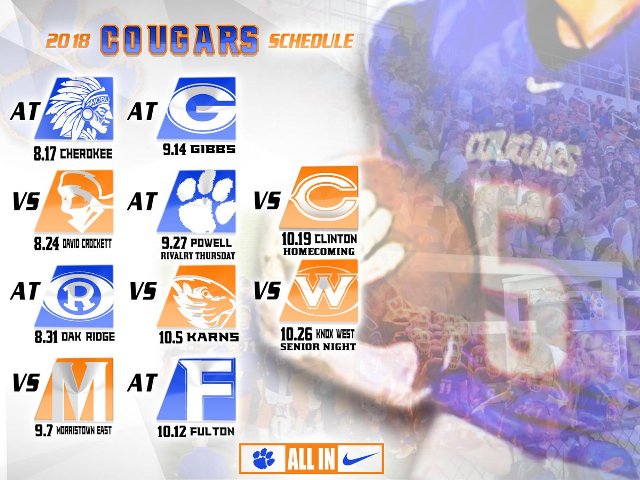 Deadline has passed. Here's the final list of names.
Candidates have one week to withdraw and not be on the ballot
The total number of names expected to be on the August ballot is 85. Of that total, 79 are locals.
Added this morning are third district county commission candidates Dewayne Baird, Stan Foust, and former county commissioner Lynn Letner. For county commission in the first district is former county commissioner David Adkins. In the second district, Mark Honaker is running for school board. (WLAF NEWS PUBLISHED 04/05/2018-1PM)
State Representative (Republican Primary Election)
Dennis Powers**
State Representative (Democratic Primary Election)
Cassandra Mitchell
Register of Deeds (10)
Gary E. Berry, Greg Cross, Brittany Miller Foust, Pete Huckaby, Beverly Stanfield Hall, Thomas Hatmaker, Ron McClellan, Patrick Silcox, June Turner and Johnny Vanover
Mayor (6)
Aaron Evans, Mike Freeman, Jack Lynch, E.L. Morton**, David G. Young, & Brian Younce
County Clerk
Alene Baird** & Todd Nance
County Trustee
Monty Bullock** & Tommy Overton
Circuit Court Clerk
Bobby Vann**
Sheriff
Robbie Goins** & Jimmy Jeffries
County Commission
1st District (7)
David Adkins, Keith W. Goins, Whit Goins**, Robert "Higgy" Higginbotham**, Harley Hill, Zachary Marlow, and John Ridenour
2nd District (6)
Otis Hatfield, Scott "Scotty" Kitts, Cliff "Butch" Kohlmeyer**, Jay Muncey, Lisa Stanfield Lester & Lonnie Welden**
3rd District (8)
Dewayne Baird, T. Don Boshears, Stan Foust, Lynn Letner, Lawrence "Rusty" Orick**, Josh Parks, Danny Sheckles, and Scott Stanfield**
4th District (4)
Charles "Goat" Baird**, Johnny "Coach" Bruce**, Sue Nance**, and Josh Parker
5th District (7)
Forster Baird**, Ralph Davis**, Carl B. Douglas**, Robert H. Hicks, Tyler King, Steve "Coach" Rutherford, and Ronnie Thomas
School Board
1st District (4)
Wallace Goins**, Jeffrey Miller, John Minor, and Marvin T. Rutherford
2nd District
(3)
Mark Honaker, Josh James, and Sharon Mills Ridenour**
3rd District
Faye Heatherly** & Travis Thompson
4th District
Clint Bane** and Ronnie Lasley
5th District
Crystal McNealy Creekmore** & T. Lauren Wright
Constable
1st District
Barney Cox, Sam Ivey, and Kenneth Newsome
2nd District
Larry R. Ford & Jamuel Patton
3rd District
Johnny Jones
4th District
Dewey Madison & George Mefford
5th District
Samuel (S.L.) Tackett & Paul Webb
Democratic State Executive Committeeman
Bob Cowan
Democratic State Executive Committeewoman
Tracey Vought Williams
Republican State Executive Committeeman
Roger Burks, Randy Ellis, & Jim Cobb
Republican State Executive Committeewoman
Elizabeth "Liz" Holiway
** Incumbent
Election Day is Thursday, August 2, 2018. Early voting begins Friday, July 13. (WLAF NEWS PUBLISHED – 04/05/2018-1PM)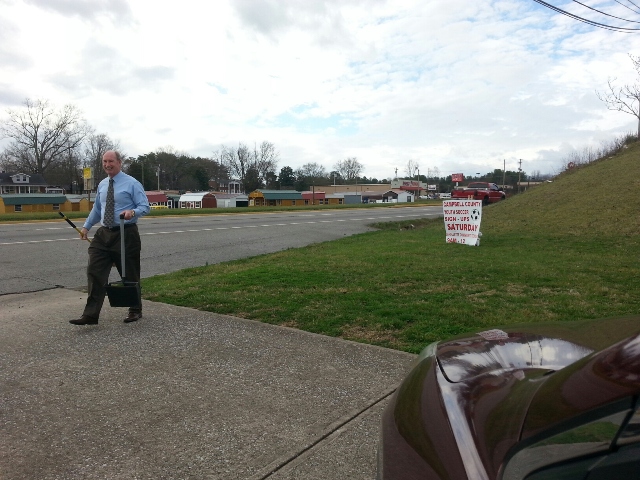 A memorable banking career comes to a close today at Peoples Bank of the South. Gary Petree, caught tidying up the parking lot, will officially retire at the close of business this afternoon.
Petree's passing the baton today
'What would you think about working here?' – Mildred Reynolds
Who but Gary Petree would take the time most mornings to tidy up the parking lot at the mall branch of Peoples Bank of the South? Yep. There he is wearing a coat and tie with broom and dust pan in hand making sure "his" parking lot is in proper order when "his" customers begin arriving. Well. It's not really "his" bank, but for the past almost 40-years the Senior Vice-President cared for it and its customers as if it were.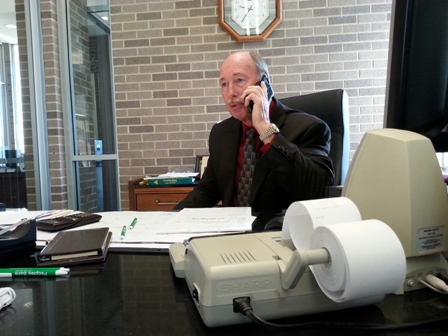 WLAF caught up with Petree last week at his office
It seems pretty cut and dried. The late Mildred Reynolds with then Peoples National Bank simply asked Gary Petree, "What would you think about working here?" Petree said, "Yes," and thirty-nine and-a-half years later he's calling it a career at Peoples Bank of the South. But there's a lot more to it than that.
Petree's connection to his career at PNBS can actually be traced all the way back to his elementary school days at Ridgewood School. Somewhere along the way, second or third grade, a new teacher and coach came to Gary's school; Eugene Lawson. Unknown to either at the time, this is where the boy from Vasper's path to Peoples began, and it was because of the Lawson link.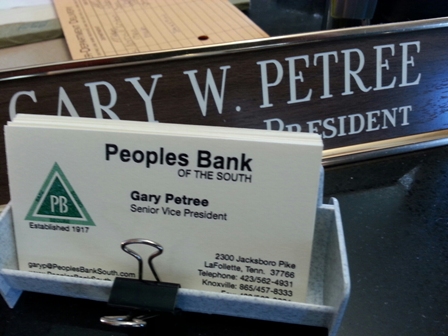 Petree lived out his career not far from his childhood home at Vasper
It was at Jacksboro High School where Petree flourished in the gym and on the field. The basketball and football star went on to wear his trademark number 22 jersey for the Maryville College Football Team as a running back and wide receiver. He also ran track at MC running the 100, 220, and 440 relay.
Lawson tells a story typical of Gary's competitiveness, determination and speed. In eighth grade, Lawson recounts that Petree was intentionally tripped during the 100-yard dash in the May Day events only to get back up and win the race.
It was over lunch at the Royal Pool Room on North Tennessee Avenue in La Follette when the blunt speaking Lawson asked Petree, "What are you going to do now after graduating from high school the other day? Go back to Vasper and sit up on that red clay bank?" Gary said he'd like to go to school but didn't have the money.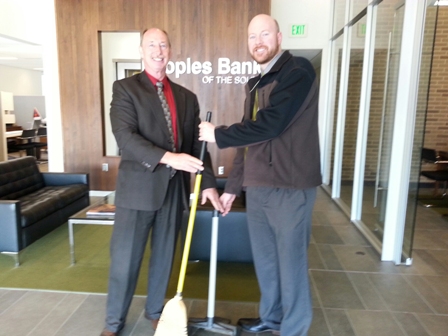 Dewayne Baird (R) officially takes over for Petree on Monday
Lawson told him, "Come on. I know where we can get it." They walked across the street to Peoples Bank. Mildred Reynolds loaned Petree, with Lawson co-signing, the money for his first year of college. When school was out that next spring, Gary worked construction, and sometimes a second job, over the summer, and he paid off the note. That happened again and again and again until Petree graduated from MC.
In the late summer of 1978, Lawson was at the bank when Mildred Reynolds asked him, "What ever happened to that Petree boy? Bring him in here. I want to see him." Petree met with her explaining that he was looking for a job and had applied at a few places, including some banks. That prompted the long time banker to ask, "What would you think about working here?" Gary started work in September.
Petree says, "I've tried to help those like me over the years." He calls technology and regulations the biggest changes during his career. Fond memories for him include when they'd work Saturdays being busy making $500 loans. "It was a close-knit group back in those days he recalls adding that we'd all eat lunch at the bank and then balance and go home." The reason Petree likes community banking so much is it's where you can help the most people. He points to having his two children as being the biggest influence on his life.
John T. "Jack" Reynolds, former president of Peoples Bank of the South and current chairman of the board said , "I sure hate to see him leave us. He's a good man and a good banker. He keeps everything moving right along." Reynolds adds that Petree spent much of the day yesterday scoping out real estate. "He made a lot of real estate loans for us," Jack Reynolds said. Reynolds is quick to add that Petree's been awfully good to his parents.
So who's going to fill those big shoes? Dewayne Baird. Baird and Petree have been preparing for this day for a while. Gary feels very good about Baird and says he will do a good job. Baird, who grew up at Mt. Paran, is anxious to take on a leadership role and describes this as a great opportunity. Dewayne has been with Peoples for five years come November. Even though he is retiring, Petree will still be at the bank a day a week most weeks.
Oh, and Dewayne. The broom and dust pan are in that back closet next to the conference room. (WLAF NEWS PUBLISHED – 03/30/2018-6AM)
LA Cruizers Cruze-In schedule is set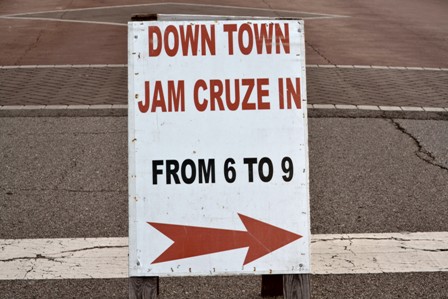 Classic cars. Street rods. Rat rods. The LA Cruizers season is less than a month away starting up on Saturday, April 14, 6 pm (until 9 pm) on North Tennessee Avenue in La Follette. There'll also be music, food-n-fun at the 11 scheduled events. All Saturdays. Locations are split between downtown and at Hardee's.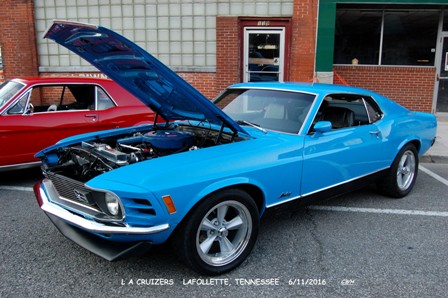 Downtown – North Tennessee Avenue
April 14, May 12, June 9, July 28, August 18, and September 1
Hardee's – on the four lane
April 28, May 26, June 30, July 7, and October 13 (WLAF NEWS PUBLISHED – 03/21/2018-6AM-CHARLIE HUTSON PHOTOS)
Yes, La Follette Medical Center does have its own cardiologist
Dr. Stephen Teague practices at LMC
It seems only fitting, that during the month of February, American Heart Month, and on Valentine's Day, to let you in on a little secret. La Follette Medical Center has its very own cardiologist on staff. And his name is Dr. Stephen Teague.
Duke, Miami, Purdue, the University of Illinois at Chicago Medical School. Teague's curriculum vitae impressively outlines where he's attended school or taught on staff. But how did a cardiologist with such a pedigree find his way to La Follette Medical Center? Location. Location. Location.
The move to La Follette Medical Center in 2011 allowed the well-traveled Teague, who grew up in south Knoxville and loves the outdoors, to return to his native region. Away from the office, Teague loves an active life and living on the Clinch River provides the perfect setting to stay active. Whether he's kayaking or tending to his vegetable garden, he is indeed on the go.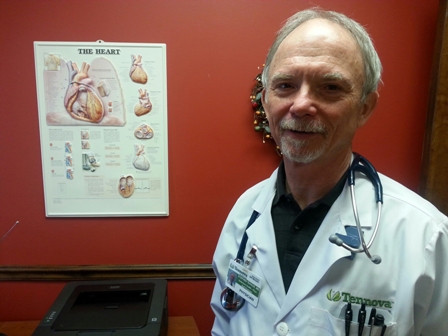 It doesn't take long for the personable Teague to put patients at ease.
Perhaps the first thing you notice about Doc Teague, aside from an office with heart related information and models on his desk to various framed fishing memorabilia on his walls, is that he is so friendly and down to earth. Reason enough for him to glow when he speaks of working at La Follette Medical Center and the rest of the staff at LMC. He calls the atmosphere and working relationships "fairly uncommon." Given his travels, he should know.
Teague notes that what sets Tennova – La Follette Medical Center apart is congeniality. He says it's not like any group he's been with before. Helping you on the spot and being eager to help each other are the norm at LMC Teague adds.
Between Teague and his Physicians Assistant, Jeff Nitz, there is a combined 70-years experience. He describes Nitz as having a huge background and skills. Additionally, he says that LMC's diagnostic evaluation and management capacity equals what is found at other larger hospitals.
Cold weather, Teague says, brings out angina patients with aching in their chests, and that could also be an indicator of heart disease. He sees a lot of atrial fibrillation; a disease of aging, aka Afib. At his LMC office, he sees adolescents to octogenarians and above.
Women are eight fold more likely to die of heart disease than breast cancer putting them neck and neck with men, Teague points out, and that risk can be mitigated. All the more reason why the American Heart Association identifies February as "heart month." (WLAF NEWS PUBLISHED – 02/14/2018-6AM)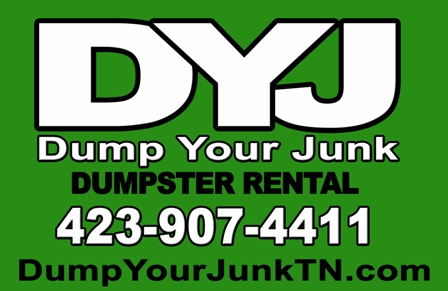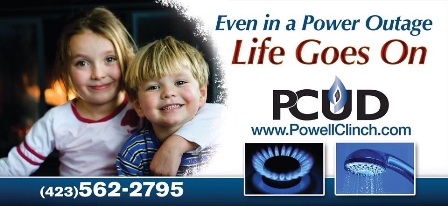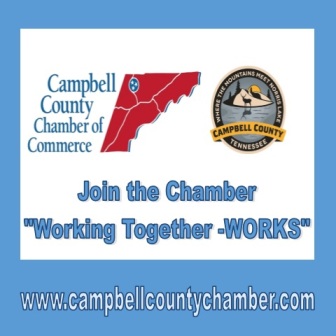 CLICK HERE to watch the Christmas Parade from WLAF
Made possible on WLAF by: Aaron Evans, C & L Furniture, Shepherd's Home Thrift Store, Tom Hatmaker, Litho-Craft, City of La Follette, & Wender Furniture
See Charlie Hutson and Lindsey Hutson photos HERE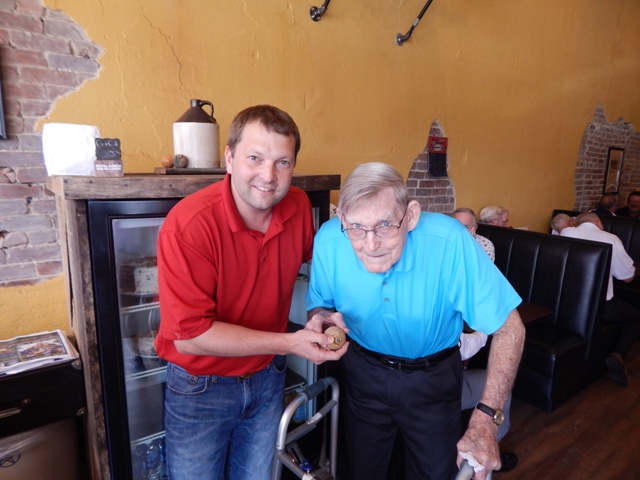 Tuesday (08/26/2017) , at lunch, Tony Lindsay presented the old coach, Coach Ron Murray with the 9-ball found under the old pool hall. Murray said that he always played 9-ball. The story is further down this page.
Tech tales from the field and the stands
Johnny Majors and Jim Farris share their stories
Word spread pretty fast as soon as Coach Ron Murray hung up the phone Tuesday morning. Former Tennessee player and coach Johnny Majors called to say he was headed to La Follette for lunch.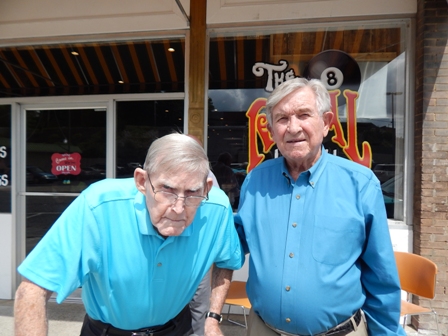 Friends for more than 60-years. (L) Coach Ron Murray and Coach Johnny Majors.
The old coaches, Majors, Murray, and Jim Smelcher, took over the big table at the Royal Lunch Room with some friends and fans. Smelcher, a Lake City native, was a Tennessee teammate of Majors and was the head football coach at Bearden back in the 1960s.
All the attention was on Majors. And I couldn't help but ask. What was your favorite game in your playing days? Majors shot back in his snappy, distinct tone, "Georgia Tech. 1956!"
CLICK HERE to hear Majors full account.
Ironically, the Vols open the 2017 season, some 61-years later, on Monday night at Atlanta against Tech. There's a lot on the line for that one but not near as much as in that '56 match-up.
The 80+ year old Majors recalled that afternoon on Grant Field as if it were yesterday. "We would quick kick it on third down some in those days. We had the ball at our 15-yard line; third and three, and Georgia Tech's safety went deep thinking I'd punt. But I didn't – running for a first down instead. Then on first down, I did quick kick; first and only time I ever did on first and ten. That punt sailed 69-yards, and we backed up Tech at its 12-yard line."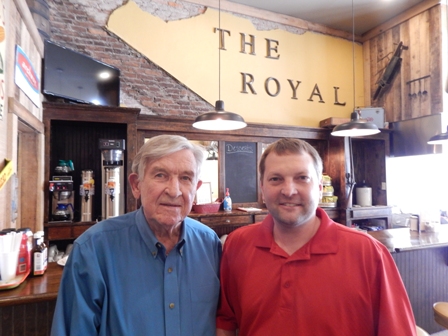 Coach Johnny Majors (L) and Royal Pool Room Owner Tony Lindsay take time out for a David Graham photo.
Dr. Jim Farris, Jimmy in his high school years, attended that 1956 classic along with his buddy, Jimmy Higdon; both juniors at La Follette High School. It was their first Vols away game. Higdon's father, Carl, owned the Royal Lunch Room back then. Farris recalls catching up with a couple of his La Follette buddies, Bob Robards and Horace Brown, when they made it to campus in Atlanta. They were freshmen that fall at Georgia Tech.
Farris remembers sitting in the south end zone on that November afternoon. He says he can still see Majors, on the north end of the field, throwing a long pass that was caught by a Volunteer after two Tech defenders collided.
Majors said, "We won it on a touchdown after Tommy Bronson, our fullback, plunged in from a yard out. We had one of the worst extra point kicking teams in the nation, and we missed the extra point."
Tennessee won that SEC "game of the decade" six to nothing. The Vols went on to finish the season ranked second in the country, but ranked first for the week after the Tech win. Majors said that on college football's 100th anniversary in 1969, Sports Illustrated listed its Top 100 Games of All Time. That UT-GT game was voted second best ever. (WLAF NEWS PUBLISHED 08/30/2017-6AM[-PHOTOS COURTESY OF WLAF'S DAVID GRAHAM)
It's not your average 9-ball
'I'm thinking it's from the 1930s' – Tony Lindsay
Tony Lindsay revived the tradition of the Royal Lunch Room a few months ago. And along the way, he dug up some history. Literally.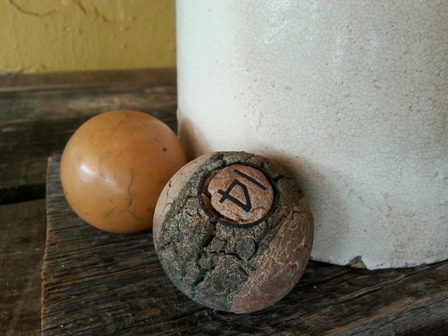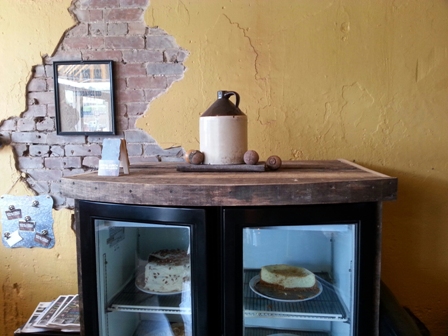 You can see some of the old billiard balls on top of this cooler inside the Pool Room.
He tells WLAF that as he and his crew were digging under the old floor to make way for the new floor, they saw something roll. It was a billiard ball. "About 15 in all, Lindsay adds. He says they were all found in the front corner of the building on the alley side." (WLAF NEWS PUBLISHED 08/30/2017-6AM)
Chamber of Commerce hosted its annual meeting last night
Tucker and Hutson steal the show
It started from the git-go for WLAF's Charlie Hutson and WATE's Lori Tucker. C-Hut was there with his camera last night as guests were in the food line at the annual Campbell County Chamber of Commerce. Once Lori spotted him right beside her, the friendly jostling began. And it carried on through the evening.
The award winning television news anchor was last night's keynote speaker. Tucker shared her life's story in a nutshell with the full house of chamber supporters mixed with a few back and forth humorous jabs between she and Hutson.
Always graceful chamber director Christie Elkins served as the evening's emcee leading praise for all the businesses and individuals who keep the Campbell County Chamber of Commerce strong as it heads into its 33rd year. There are more than 230 members of the Campbell Chamber.
Leadership Chair Missy Tackett recognized the 2016-2017 Leadership Class of Leeann Adkins, William Arbo, Kimberly England, Penny Etter, Travis Forsyth, Anthony Hamblin, Wendy Pittman, Olivia Robbins, Larry Tanis, and Chris Whaley.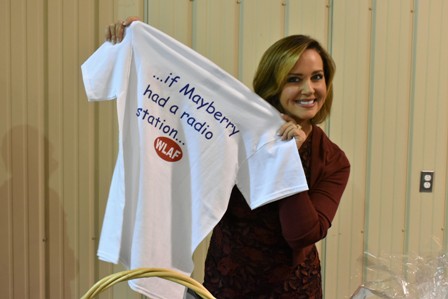 The chamber presented Lori Tucker with two huge gift baskets. Among the items is her very own WLAF T-Shirt
Five members are retiring from their chamber of commerce board of director's duties. Chamber Chair Rhonda Longmire thanked Kenny Baird, Karen Cumorich, Debbie Petree, and Debbie Samples. Longmire rounds out the five stepping away from the board this year.
Cynthia Russell is the new chamber chairman for 2017-2018. She welcomed incoming board members John Branam, Kevin Brown, Gary Farwick, Nancy Green, Brent McNeely, Paul Rumberger, and Melinda Wilson, Chair Elect.
Last night's event was held at the Ball Farm Event Center. (06/23/2017-6AM-PHOTOS COURTESY OF WLAF'S CHARLIE HUTSON)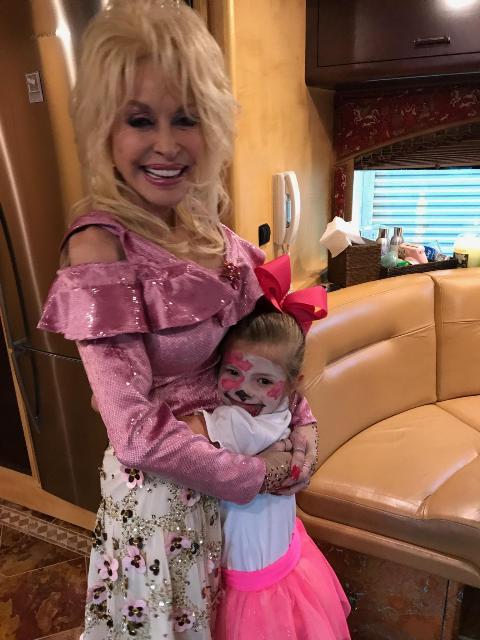 We have a dilly of a Dolly story to share with you this morning. More photos of Nora Snodderly's visit with her hero, Dolly Parton, and her story are further down this page.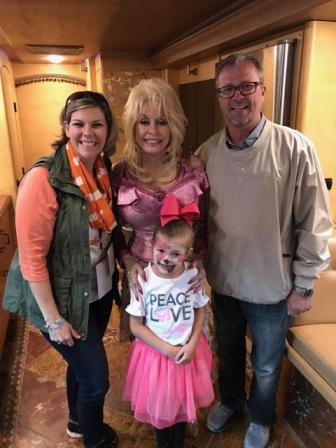 All aboard!
Nora Snodderly brought her mom and dad, Raewyn and John, onboard her new best friend's tour bus. Dolly Parton just had to meet the girl with the big hair bow.
Mom, daughter and Dolly - a pre-mother's day memory
Assignment becomes more than a story
By Raewyn Snodderly
Publisher's note: When Raewyn volunteered to cover the premier of Dolly's new "Smoky Mountain Adventures" Dinner Show for WLAF, we had no idea the day would turn into a lifelong memory. But it did, and here's how it all came about.
As a mother, you always want to see your daughter or son dream, dream of big things, places and have high hopes. My husband, John, introduced our daughter, Nora, to musical legends several years ago. For those of you who know John, you know he is an avid fan of legends such as Johnny Cash, Porter Wagoner, Dolly Parton, and Kenny Rogers. Those are just a few of his country artists, but he of course loves the hard rock and roll as well. One night Nora was introduced to Dolly Parton. From then on a love affair began! She, of course, had already been introduced to Dolly's Imagination Library. Each month we received a book and it became an exciting time for Nora and Zeke, our son, when the mail came. As her love for books grew, her love for music grew as well. We often watch YouTube videos of Dolly, to the point of having to tell Nora that we must do our chores and finish our homework before we watch YouTube videos. Then came the records, her daddy made a trip to Merideath Antiques and acquired many of Dolly's records. So every Friday night, we had dinner and would listen to Dolly.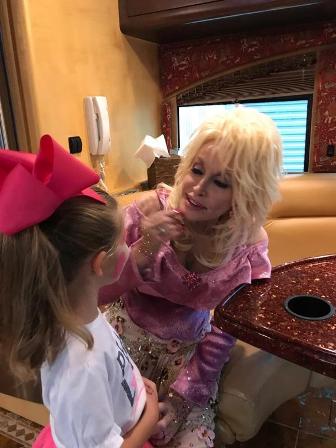 Dolly was eager to hear what Nora had to say.
When the fires happened in Sevier County, we sat as a family and watched fire rip through the beautiful mountains we love. We told stories about visiting the mountains. John shared stories about his many trips with his grandmother and People's Bank of the South. I shared stories of family trips with all of my cousins and of course our trips with LaFollette United Methodist Church to Resurrection each year. We shared family stories visiting my mother and step-father's cabin, which was Nora's first adventure as a baby. The night of the fires was a somber and heartbreaking night in our household. However, Dolly jumped into action and did what she does best- she helped out and established the "My People Fund." Nora was in awe. She said, "Mom, she is helping people she does not know." She made a proclamation that night, "Mom, Dad, I love Dolly, I want to meet her one day and tell her thank you!" John and I looked at each other and snickered and said to her, "You may not meet Dolly but we can admire her through her music, her park and her books."
Fast forward a few months later, the weekend coming up was Dolly's big homecoming weekend. We decided in light of the scheduled events we would make a trip to Dreammore Resort and attend the Dolly Parton homecoming parade. Nora knew of these plans and we had been very open with the fact that she would only see Dolly from a far.
After numerous conversations with Nora, I overheard her prayer one night and it went something like this: "Dear Lord, I know you know Dolly, I love Dolly and I really want to meet her. Please help me, because I have so much to tell her."
All I could think was as a family we bless our food, attend church and pray, but if we do not meet Dolly, what will my daughter think about praying? That's when our planned events took a real story book turn, and it was Nora's prayers that were answered!
For many of you who know me, I take pride in my southern roots. In fact, manners are one of the most important lessons that I took from both of my grandmothers and mother. We learned early on that no matter the situation, always mind your manners. You also may not know this, but Nora had her first hair bow in her hair 20 minutes after she was born. Every southern girl needs a hair bow and the bigger the better. So as a Southerner raising a daughter, I am aware that it is important to mind your manners and wear your hair bow.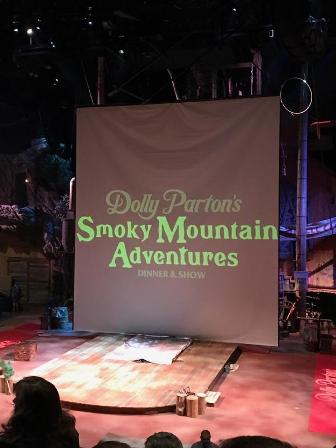 The night prior to the Dollywood parade and the Dolly Parton's Smoky Mountain Adventures Dinner and Show, we checked into the resort, and saw Dolly's bus. We asked around and Dolly was in for the night, so we took off and went swimming. After a long night of swimming, Nora and I went to check on Dolly's bus. Nora began by saying, "Momma, she is in there." My response was "Yes baby, but we will only get to see her at the dinner show and the parade." She then reminded me that she had prayed about meeting Dolly, and the best was she "had Dolly in her heart!" At that moment in time, an angel appeared in the form of a gentleman asking "Do you like Dolly?" After a conversation, we learned he worked on Dolly's staff. We introduced ourselves and let him know we would be at the show. The man was a jewel as he talked to Nora about the bus, Dolly's love for her people and the love for kids. Nora, of course, naturally talked his ear off (she gets that from her daddy).
The next morning was the big day; it was our chance to see Dolly Parton, but Nora was convinced saying, "We will meet her, Mom!" She had faith that her prayers would be answered. As we headed out for a fun filled day our first stop was "Dolly Parton's new "Smoky Mountain Adventures Dinner" show. We arrived for the premier at 8:45 am, only to find out that we were an hour early. Nora was a trooper, as we waited, and then it happened- Dolly's bus pulled into the parking lot. As we stood there anxiously awaiting Dolly's appearance, her team went in and out, in and out. You know that angel I mentioned? He came out of the bus. He came over to his new friend and said "Good morning Nora with the big pink hair bow. Are you ready to see the show?" Nora was extremely excited!
We continued to stand there waiting on Dolly's arrival and then there she was, as beautiful as ever, full of spunk and happy to greet her fans. Next thing I know, I hear Nora anxiously shout "Dolly, we love you!" Dolly stopped and said "I love you, and I see you with the big pink bow!"
We were on cloud nine! Nora's dreams came true and her prayers had been answered. Or so we thought. After Dolly moved inside, we went in and found our seats. We were watched the show with the media and guests of Dolly. It was then announced that so much money was raised for the "My People Fund" the endeavor would continue. As Dolly spoke she talked of why this show was so near and dear to hear heart. It was about her momma and daddy and her family traditions growing up in Locus Ridge. The root of the show was "food, faith and family."
After the show, Nora's life changed forever. We exited the show and noticed that Dolly had re-entered her bus. It was John's idea to hang around for a moment. As we stood there and watched her staff go in and out, here came Nora's buddy. He approached Nora and said, "Hey Nora with the big pink bow, do you want to meet a good friend?" And with those words, Nora, John and I were headed onto Dolly's tour bus. John and I were speechless, truthfully John stuttered, and I was in shock. Nora was extremely excited. She made herself at home and climbed right into Dolly's lap. They discussed school, music and her love for books. Nora told Dolly that she prayed really hard to meet her, and she knew in her heart that she would meet Dolly one day. She then did something that, as a mother, I will always be proud of. She thanked Dolly for the Imagination Library books and explained that for many in rural Appalachia (yes, those words were used by a 6-year old) that was all they had. Dolly encouraged Nora to still read, wear those big bows, and to continue to pray. As we stood for pictures and she posed, John and I stood speechless, proud that our daughter recognized that Dolly is a good steward of her time and fortune. We were proud that Nora thanked her profusely for the books mailed to every child in the state. We were proud that she learned to love and respect someone so much that has such a big heart for her community. We were most proud, that as parents, she had faith that she would meet Dolly. We doubted, but, she had faith.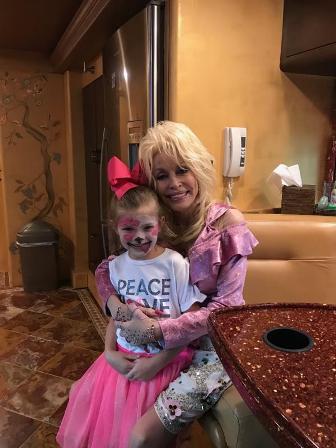 It was a day Nora "and" Dolly will not soon forget.
As we approach this Mother's Day weekend, remember that although our kids look up to us as parents, we as parents often learn from our children. So, as we wrapped up a fun weekend with our children we were still asking each other, "Did that really happen?" At the end of the weekend as we were having dinner and celebrating such a great day, Zeke had a huge announcement.
He stood proud and tall at the table and said "Mom, Dad, YaYa, B, I met someone famous….I met Johnny Cash!" (05/12/2017-6AM)
SEE ELECTION RETURN FINAL NUMBERS HERE FROM WLAF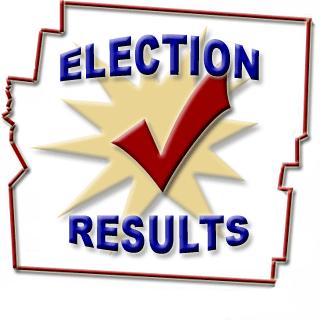 Several outstanding corporate partners make the WLAF Election Returns possible. They are Terry's Pharmacy, Community Trust Bank, East Side Pizza, Litho-Craft Printing & Office Supplies, United Cumberland Bank, Byrge Screen Printing, Bowman Jewelers, Attorney Greg Leach, David Bales Buick-GMC, Main Street Shell, First National Bank, State Farm Agent Lynn Ray, El Pueblito Mexican Grill, Beacon Finance, Gamble Motors, State Representative Dennis Powers, Wender Furniture, Peoples Bank of the South, and Gary Gray Insurance.